Anime Spotlight - Red Data Girl
by Justin Sevakis, Apr 2nd 2013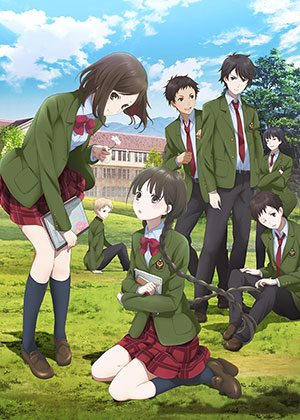 April 3, 2013 (Japanese Broadcast)

Key Staff
Director: Toshiya Shinohara

Series Composition & Script: Michiko Yokote

Original Character Design: Mel Kishida

Animation Production








Introduction
Mel Kishida x P.A. Works x Kadokawa Shoten
The greatest masterpiece in modern fantasy by popular author Noriko Ogiwara, is now getting animated!
Kadokawa Bunko 65th anniversary production, Red Data Girl
What is RDG, Red Data Girl?
--A girl who's an endangered species. The name is derived from "Red Data Book" (RDB), a book which organizes data on wildlife in danger of extinction. She possesses a mysterious and unique power that everyone seeks to obtain for themselves.
I want to change. I have to!, Both myself, and the future.
But…I want to be a normal girl.
Story
Along the world heritage site, Kumano Kodo, lies a hidden shrine, Tamakura Jinja. Izumiko Suzuhara was raised at the shrine by her grandfather, the head priest, and barely knows anything about the outside world. She's a shy girl with two long braids, and glasses. Whenever she touches a computer or phone, it freezes.
"I want to be a normal girl."
Then one day, as she worried over the difference between herself and others, her childhood friend, Miyuki Sagara came to Tamakura Jinja, and winds up transferring to Izumiko's middle school?!
--A destiny even Izumiko herself is unaware of quietly begins to move.
Characters
| | |
| --- | --- |
| | Izumiko is extremely shy and knows little about the world. Because of her parents' work, she was raised by her grandfather at Kumano Tamakura Jinja. A secret lies behind her long, twin braids… |
| | Izumiko's childhood friend and classmate. His great grades and handsome looks make him popular with girls, but he's obstinate towards Izumiko. He comes from a family line of Mountain priest, and he's also training to be one. |
| | One of Izumiko's classmates at Awatani Middle School. |
Cast
Izumiko Suzuhara

Saori Hayami

Miyuki Sagara

Kouki Uchiyama

Mayura Soda

Manatsu Soda

Masumi Soda

Ryouhei Kimura

Yukimasa Sagara

Satoru Wamiya

Rie Kugimiya
Staff
Original Creator

Noriko Ogiwara
(Kadokawa Shoten/Kadokawa Silver Spoon Series,
Kadokawa Bunko Publishing)

Director

Toshiya Shinohara

Series Composition
Script

Michiko Yokote

Original Character Design

Mel Kishida

Character Design

Music

myu
Masumi Ito

Music Production

Animation Production

P.A. WORKS

Production




©2013 Noriko Ogiwara・KADOKAWASHOTEN/Team RDG
---
discuss this in the forum (236 posts)
|
back to Anime Spotlight Spring 2013 - The List
Anime Spotlight homepage / archives