Interest

Daily Cosplay

Cowboy Bebop's Faye Valentine

posted on

2011-09-06

23:30 EDT by Gia Manry
Cosplayer portrays popular anime heroine
---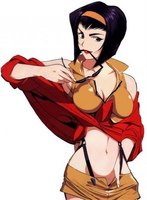 In the above image, an unidentified cosplayer portrays Faye Valentine, a character from Sunrise's television anime Cowboy Bebop. In the series, Faye first appears as a thief who butts heads with series protagonist Spike Spiegel. Over time and despite her brash and occasionally lazy demeanor, Faye becomes an integral part of the crew on board the Bebop, participating in the group's bounty hunting activities.
Photo © Lydia Marshall. Used with permission.
To submit a Daily Cosplay photo, e-mail interest (at animenewsnetwork.com). Please include the name of the copyright owner (typically the photographer) of the image.
---