Mōryō no Hako (TV)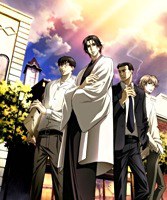 Alternative title:
Box of Goblins
魍魎の匣 (Japanese)
Objectionable content:
Intense
Plot Summary:
Between August and October, 1952, a series of unusual crimes takes place in Musashino and Mitaka: the attempted murder of 14-year-old Kanako Yuzuki, Kanako's abduction from the strange research "hospital" where she was recovering, then abductions of other girls, followed by their severed limbs in custom-fitted boxes being placed in surrounding towns. News editor Morihiko Toriguchi and crime fiction writer Tatsumi Sekiguchi investigate with the help of onmyōji Akihiko Chūzenji. Meanwhile, Tōkyō police detective Shutaro Kiba searches for Kanako, despite Kanagawa police having jurisdiction; and the lawyer for the estate of Kanako's grandfather hires private investigator Reijiro Enokizu to find Kanako, as well. Their investigation uncovers bizarre truths and dark family secrets along the way.
The story follows a series of bizzare murders of schoolgirls who have been dismembered and stuffed into boxes. The private investigator hired by a missing daughters mother joins forces with an antique book seller and others to unravel the murder spree.
User Ratings:
197 ratings have been given [details]
Running time:
23 minutes per episode
Vintage:
2008-10-07 to 2008-12-30
Opening Theme:
"Lost in Blue" by Nightmare
Ending Theme:
"Naked Love" by Nightmare
You can contribute information to this page, but first you must login or register
Japanese staff
Japanese cast





Japanese companies
This encyclopedia is collaboratively edited by the users of this site
# A B C D E F G H I J K L M N O P Q R S T U V W X Y Z
Anime anthology