Shikabane Hime: Kuro (TV)
Lookup sources in this page
To check what sources were provided for the information below, click on the
icon next to the item you want to check and then click on the "source" link that is displayed.
Note: you can set your
preferences
to
always
display the
icon while browsing the Encyclopedia.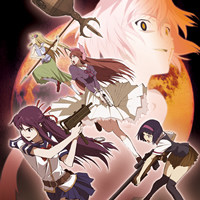 Alternative title:
Corpse Princess: Kuro
Принцесса Немертвых: Черная хроника (Russian)
屍姫 玄 (Japanese)
Genres:
action
,
drama
,
horror
,
supernatural
Themes:
death
,
girls with guns
,
life after death
,
priests and priestesses
,
revenge
Objectionable content:
Significant
Plot Summary:
A direct continuation of Shikabane Hime Aka, taking place six months after Tagami Keisei's death at the hands of the Shichisei (Seven Stars), a group of elite Shikabane who act on more than just regrets. As per Keisei's dying wish, Kagami Ouri formed a temporary contract with Makina to save her from degenerating into a Shikabane. Since then, Ouri's been training to become a proper monk so that he can remain contracted to Makina and help her fight against the Shichisei—the ones who originally killed Makina, the entire Hoshimura family, and now Keisei. However, the traitorous monk Shishidou Akasha has sided with the Shichisei in an attempt to destroy all Shikabane Hime and the entire monk organization that uses them—Kougon Sect.
User Ratings:
1817 ratings have been given [details]
Running time:
24 minutes per episode
Number of episodes:
13
Vintage:
2009-01-01
Opening Theme:
"Beautiful fighter" by angela
Ending Theme:
#1: "Beginning" by angela (ep 1)
#2: "My story" by angela (ep 2)
#3: "Hikari, Sagase Naku tomo" (光、探せなくとも) by angela (eps 3-12)
Official website:
Funimation's Official Shikabane Hime Website
Madman's Official Corpse Princess: Shikabane Hime Collection 2 - Kuro Sales Site
StarChild:屍姫 玄
(Japanese)
You can contribute information to this page, but first you must login or register
Japanese staff
Japanese cast





Japanese companies

English staff
English cast






English companies
This encyclopedia is collaboratively edited by the users of this site
# A B C D E F G H I J K L M N O P Q R S T U V W X Y Z
Anime anthology