H2 (TV)
Lookup sources in this page
To check what sources were provided for the information below, click on the
icon next to the item you want to check and then click on the "source" link that is displayed.
Note: you can set your
preferences
to
always
display the
icon while browsing the Encyclopedia.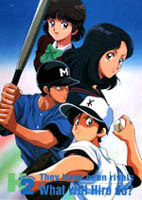 Genres:
comedy
,
drama
,
romance
,
tournament
Themes:
baseball
,
fanservice
,
love triangle
,
sports
Objectionable content:
Mild
Plot Summary:
Hiro has two loves: baseball and porn, but due to an elbow injury, gives up baseball, choosing a school with no baseball team. His childhood friend Hikari attends a different school with baseball ace Hideo. The two of them wish that Hiro had not given up baseball. Hiro joins the soccer team and meets Haruka, a very clumsy girl who is also the daughter of his father's boss. Haruka is the manager of the unofficial baseball club at Hiro's school. When the soccer team challenges the baseball club to a game, with hopes of humiliating them, the baseball club nearly loses until Hiro, disgusted by the soccer team's arrogance, switches to the baseball club.
User Ratings:
108 ratings have been given [details]
Running time:
24 minutes per episode
Number of episodes:
41
Vintage:
1995-06-01 to 1996-03-21
Opening Theme:
#1: "Niji no Grand Slam" by Toshinobu Kubota (eps 1-22)
#2: "Back to the Ground" by Hitofumi Ujima (eps 23-41)
Ending Theme:
#1: "Futari ni kaerô" by Yui Nishiwaki (eps 1-22)
#2: "Zettai aete yokatta" by Maki Yoshimura (eps 23-41)
Insert song:
"Back To The Ground" by Yoshifumi Ushima (ep 37)
"Futari ni Kaerō (『二人』に帰ろう)" by Yui Nishiwaki (ep 22)
"Niji no Grand Slam ~H2 Main Characters Version~ F O (虹のグランドスラム~H2メインキャラバージョン~F・O)" by Shinnosuke Furumoto, Keiko Imamura, Masami Suzuki and Mitsuru Miyamoto (ep 41)
"Yuruyakana Niji no You ni (ゆるやかな虹のように)" by Yui Nishiwaki (ep 23)
"Zettai Aete Yokatta (絶対 会えてよかった)" by Maki Yoshimura (ep 38)
Official website:
Official website
You can contribute information to this page, but first you must login or register
Japanese staff
Japanese cast





Japanese companies

French staff
French companies

(none)


Distributor

:

Déclic Images 

French cast

(none)

This encyclopedia is collaboratively edited by the users of this site
# A B C D E F G H I J K L M N O P Q R S T U V W X Y Z
Anime anthology