Wolverine (TV)
Lookup sources in this page
To check what sources were provided for the information below, click on the
icon next to the item you want to check and then click on the "source" link that is displayed.
Note: you can set your
preferences
to
always
display the
icon while browsing the Encyclopedia.
© 2010 Marvel Entertainment, LLC and its subsidiaries
© 2010 Superhero Anime Partners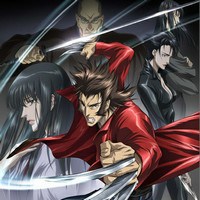 Alternative title:
Росомаха (Russian)
ウルヴァリン (Japanese)
Genres:
action
Objectionable content:
Significant
Plot Summary:
Next in the four-part Marvel Anime project and broadcasts after the Iron Man anime. Wolverine is a mutant, possessing animal-keen senses, enhanced psychical capabilities, three retracting bone claws on each hand and a healing factor that allows him to recover from virtually any wound, disease or toxin at a accelerated rate.
User Ratings:
175 ratings have been given [details]
Number of episodes:
12
Vintage:
2011-01-07
Opening Theme:
"Feel my Claws" by Takahashi Tetsuya
Ending Theme:
"Another Day of Battles" by Takahashi Tetsuya
You can contribute information to this page, but first you must login or register
Japanese staff
Japanese cast





Japanese companies

English staff
English cast






English companies

French cast
French staff

(none)






French companies

(none)


Spanish staff
Spanish companies

(none)


Broadcaster

:

MTV LA

(Latin America)

 

Spanish cast

(none)


German staff
German cast

ADR Director

:

Sabine Sebastian 

Script

:

Sabine Sebastian 





German companies

Broadcaster

:

Animax Germany 

Tagalog staff
Tagalog cast

(none)






Tagalog companies

Broadcaster

:

ABS-CBN 

Portuguese staff
Portuguese cast

Dubbing Director

:

Adna Cruz 

Translation

:

Marcelo Del Greco 






Portuguese companies

Dubbing Studio

:

Dublavídeo 

Internet Streaming

:

Crackle 

Licensed by

:

Sony Pictures Entertainment 
This encyclopedia is collaboratively edited by the users of this site
# A B C D E F G H I J K L M N O P Q R S T U V W X Y Z
Anime anthology