Cat's Eye (TV)
Unfortunately, due to abuse, anonymous error reports are no longer accepted. You must
login
in order to submit an error report.
Note: you can set your
preferences
to
always
display the
icon while browsing the Encyclopedia.
© Tsukasa Hojo / NSP • TMS 1983.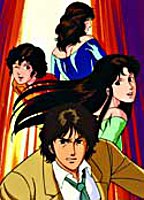 Alternative title:
Ein Super Trio (German)
Occhi di Gatto (Italian)
Ojos de Gato (Spanish)
Signé Cat's Eye (French)
キャッツ・アイ (Japanese)
Themes:
thief
Plot Summary:
The three Kisugi sisters—Rui, Hitomi and Ai—during the day run a small cafe called "Cat's Eye". To discover the whereabouts of their father, the artist Michael Heintz, who has disappeared, Hitomi and her sisters rob art galleries as the smart and mysterious thief "Cat's Eye" in the hope that his works can give them clues about his vanishing. The crucial point is that Hitomi has a relationship with Toshi, a police inspector who has sworn to catch "Cat's Eye"—and of course he has no idea about Hitomi's double life.
User Ratings:
143 ratings have been given [details]
Running time:
half hour per episode
Number of episodes:
73
Vintage:
1983-04-11 to 1985-07-08
1985-09-15 (Italy - Italia 1)
1986-09-20 (France Air Date)
1995-11-13 to 1996-02-22 (Germany - RTL2)
2007-06-07 to 2007-09-07 (USA - ImaginAsian TV, Season 1)
2013 (ETC...TV - Chile)
2015-03-02 (Chile - ETC...TV)
Seasons:
1. Cat's Eye, 36 eps (1983-04-11 to 1984-03-26)
2. Cat's Eye, 37 eps (1984-10-18 to 1985-07-08)
Opening Theme:
#1: "Cat's Eye" by Anri (eps 1-36)
#2: "Derringer" by Mariko Tone (eps 36-73)
Ending Theme:
#1: "Dancing with the sunshine" by Anri (eps 1-36)
#2: "Hot Stuff" by Sherry Savage (eps 37-73)
Insert song:
"FLYING IN THE TWILIGHT" by Mariko Tone
"STAY WITH ME" by Mariko Tone
Official website:
TMS Anime Classics - Cat's Eye (USA)
Press Release:
You can contribute information to this page, but first you must login or register
This encyclopedia is collaboratively edited by the users of this site
# A B C D E F G H I J K L M N O P Q R S T U V W X Y Z
Anime anthology