Pretty Rhythm Aurora Dream (TV)
Unfortunately, due to abuse, anonymous error reports are no longer accepted. You must
login
in order to submit an error report.
Note: you can set your
preferences
to
always
display the
icon while browsing the Encyclopedia.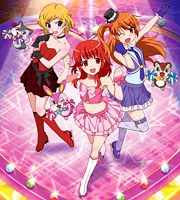 Alternative title:
Pretty Star - Sognando l'aurora (Italian)
プリティーリズム オーロラドリーム (Japanese)
星光少女 ~ 極光之夢 ~ (Chinese (Taiwan))
Themes:
Dance
,
Dreams
,
Idols
,
Love Triangle
,
music
Objectionable content:
None
Plot Summary:
The Prism Show is an all-new kind of ice skating show that requires its participants to be figure skaters, models, and singers all at the same time. Aira and Rhythm are two girls who both dream of becoming the Prism Queen. They'll have to train hard and overcome both their quarrels with each other and their blossoming interest in boys if they want to achieve their dream.
User Ratings:
30 ratings have been given [details]
Running time:
25 minutes per episode
Number of episodes:
51
Vintage:
2011-04-09 to 2012-04-01
2014-01-31 (Animax Asia)
2014-06-02 (ITA)
Opening Theme:
#1: "You May Dream" by LISP (eps 1-29)
#2: "1000 % kyunkyun sa se te yo ♡" (1000%キュンキュンさせてよ♡) by Pretty Rhythm All Stars
Ending Theme:
#1: "Happy GO Lucky! ~Happy☆Lucky de GO!~" (Happy GO Lucky! 〜ハピ☆ラキでゴー!〜) by SUPER☆GiRLS
#2: "We Will Win! -Kokoro no Baton de po・pon no po~n☆-" (We Will Win! -ココロのバトンでポ・ポンのポ〜ン☆-) by Tokyo Girls' Style
#3: "Pretty Rhythm de Go!" (プリティーリズムでGo!) by Kana Asumi, Sayuri Hara & Azusa Kataoka
#4: "Everybody's Gonna Be Happy" by Prizmmy☆ (eps 40-51)
Insert song:
"1/1000 Eien no Bigaku (1/1000永遠の美学;1/1000 Beauty)" by Takashi Kondo & Nobuhiko Okamoto & Kenn (eps 1,9-10,23,26,44)
"Don't Give Up" by Satomi Akesaka (eps 43,47)
"Dream Goes On" by Kana Asumi (eps 10-12,26,35,39,41,44,46-47,50)
"Hop! Step!! Jump!!!" by Kana Asumi & Sayuri Hara & Azusa Kataoka (eps 29-31,33-39)
"Itoshi no Tinkerbell" (愛しのティンカーベル; My Beloved Tinkerbell) by Callings (eps 22,26,30,44)
"Kokoro Jūden!" (ココロ充電!;Heart Charged!) by Sayuri Hara (eps 12,24,27,35,39,42-43,48)
"Mera Mera Heart ga Atsuku Naru" (めらめらハートが熱くなる;The Burning Heart Gets Hotter) by Kana Asumi & Sayuri Hara & Azusa Kataoka (eps 5,7,15,17,23,26-28,35,39)
"Never Let Me Down ~Ganbari ya!~" (Never Let Me Down 〜がんばりやぁ!〜;Do Your Best!) by Madoka Yonezawa & Satomi Akesaka (eps 21,26-27,32,37,39)
"Shall We Go?!" by Kanae Itō (eps 42,47,49)
"Switch On My Heart" by Azusa Kataoka (eps 12,14-16,22,26,35,39-40,45,50)
"We Will Win! -Kokoro no Baton de Po Pon no Po~n☆-" (We Will Win! -ココロのバトンでポ・ポンのポ〜ン☆-) by Tokyo Girls' Style (eps 27,31,34-35)
"Wonderful World" by Madoka Yonezawa (eps 45,47)
"You May Dream" by LISP (eps 1,30-32,35,39,46,51)
You can contribute information to this page, but first you must login or register
Japanese staff
Japanese cast






Japanese companies

English cast
English staff

(none)






English companies

ADR Production

:

Omni Productions

(Animax dub)

 

Broadcaster

:

Animax Asia 

Korean staff
Korean companies

(none)


Broadcaster

:

Cartoon Network Korea 

Korean cast

(none)


Italian staff
Italian cast





Italian companies
Chinese (Taiwan) staff
Chinese (Taiwan) companies

(none)


Licensed by

:

Top-Insight International Co., Ltd. 

Chinese (Taiwan) cast

(none)

This encyclopedia is collaboratively edited by the users of this site
# A B C D E F G H I J K L M N O P Q R S T U V W X Y Z
Anime anthology