Unfortunately, due to abuse, anonymous error reports are no longer accepted. You must
login
in order to submit an error report.
Note: you can set your
preferences
to
always
display the
icon while browsing the Encyclopedia.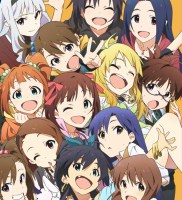 Alternative title:
The Idol Master
アイドルマスター (Japanese)
Genres:
drama
Objectionable content:
None
Plot Summary:
The arduous struggle of the 13 girls from Talent Production 765 who dream of one day becoming idols in the competitive Japanese entertainment industry.
User Ratings:
313 ratings have been given [details]
Running time:
half hour per episode
Number of episodes:
26
Vintage:
2011-07-07 to 2011-12-22
Opening Theme:
#1: "READY!!" by 765PRO ALLSTARS (eps 2-14)
#2: "Change!!!!" by 765PRO ALLSTARS
Ending Theme:
#1: "The world is all one!!" by 765PRO ALLSTARS (ep 1)
#2: "Positive!" (ポジティブ!) by Rie Kugimiya & Mayako Nigo
#3: "First Stage" by Azumi Asakura & Hiromi Hirata
#4: "Aoi Tori (TV ARRANGE) (蒼い鳥(TV ARRANGE);Blue Bird)" by Asami Imai
#5: "MOONY" by Asami Imai, Chiaki Takahashi, Hiromi Hirata, Akiko Hasegawa, Manami Numakura, Naomi Wakabayashi
#6: "The
[email protected]
" by 765PRO All Stars
#7: "Ohayō!! Asagohan" (おはよう!! 朝ご飯) by Mayako Nigo
#8: "HANIKAMI! First Bite" (ハニカミ! ファーストバイト;Bashful! First Bite) by Rie Kugimiya & Chiaki Takahashi & Asami Shimoda
#9: "Reimei Starline" (黎明スターライン) by Asami Shimoda
#10: "Go My Way!!" by 765PRO and 876PRO All Stars
#11: "START!!" by Eriko Nakamura
#12: "Shocking na Kare!" (ショッキングな彼!) by Akiko Hasegawa
#13: "i" by 765PRO ALLSTARS
#14: "Colorful Days" by Eriko Nakamura, Akiko Hasegawa, Asami Shimoda,, Yumi Hara & Manami Numakura
#15: "MEGARE!" by 765PRO ALLSTARS
#16: "Brand New Day!" by Manami Numakura
#17: "Cheering Letter" (チアリングレター) by Hirata Hiromi
#18: "Mahou o Kakete!" (魔法をかけて!;Cast Your Magic On Me!) by Naomi Wakabayashi
#19: "Kazahana" (風花;Wind Flower) by Yumi Hara
#20: "Yakusoku" (約束;Promise) by Asami Imai, Eriko Nakamura, Akiko Hasegawa, Mayako Nigo, Azumi Asakura, Hiromi Hirata, Asami Shimoda, Rie Kugimiya, Chiaki Takahashi, Yumi Hara, Manami Numakura
#21: "Sora" (空;Sky) by Juri Takita
#22: "Happy Christmas" by Eriko Nakamura & Asami Imai & Asami Shimoda & Chiaki Takahashi & Yumi Hara & Manami Numakura
#23: "Mitsumete (instrumental)" (見つめて(instrumental);Look at Me) by NBGI(Yoshi)
#24: "Massugu" (まっすぐ;Straight-Ahead) by 765PRO ALLSTARS
#25: "Issho" (いっしょ;Together) by Eriko Nakamura & Mayako Nigo & Akiko Hasegawa & Chiaki Takahashi & Asami Shimoda
#26: "my song" by 765PRO ALLSTARS
Insert song:
"Agent Yoru wo Yuku" (エージェント夜を往く) by Hiromi Hirata (eps 8,26)
"Alice or Guilty" by Takuma Terashima, Daichi Kanbara & Yoshitsugu Matsuoka (eps 10,19)
"ALRIGHT*" by Azumi Asakura (ep 3)
"Aoi Tori" by Asami Imai (eps 1,26)
"arcadia" by Asami Imai (ep 15)
"Attakana Yuki" (あったかな雪) by Akiko Hasegawa & Mayako Nigo & Asami Shimoda (ep 22)
"Day of the Future" by Akiko Hasegawa (ep 13)
"Flower Girl" (フラワーガール) by Yumi Hara (eps 13,19)
"Furufuru Future☆" (ふるふるフューチャー☆) by Akiko Hasegawa (ep 12)
"Hana" (花) by Juri Takita (ep 21)
"Hare Iro" (晴れ色) by Chiaki Takahashi (ep 8)
"Honey Heartbeat" by Nigo Mayako & Asakura Azumi & Hiromi Hirata (ep 24)
"i" by 765PRO ALLSTARS (ep 23)
"inferno" by Asami Imai (ep 22)
"Ippai Ippai" (いっぱいいっぱい) by Naomi Wakabayashi (ep 18)
"Jibun
[email protected]
" (
[email protected]
) by Eriko Nakamura & Akiko Hasegawa & Asami Imai & Mayako Nigo & Azumi Asakura & Hiromi Hirata & Asami Shimoda & Yumi Hara & Manami Numakura (ep 13)
"Jitensha" (自転車) by Hiromi Hirata (ep 17)
"Kami SUMMER!!" (神SUMMER!!) by Eriko Nakamura & Mayako Nigo & Asami Shimoda & Azumi Asakura & Rie Kugimiya & Yumi Hara (ep 5)
"Kazahana" (風花;Wind Flower) by Azumi Asakura (ep 26)
"Kimi wa Melody" (キミはメロディ) by Mayako Nigo, Azumi Asakura, Hiromi Hirata, Rie Kugimiya, Chiaki Takahashi & Naomi Wakabayashi (ep 14)
"Kiramekirari" (キラメキラリ) by Mayako Nigo (eps 7,13)
"Koi o Hajimeyou" (恋をはじめよう) by Takuma Terashima & Daichi Kanbara & Matsuoka Yoshitsugu (ep 21)
"L.O.B.M" by 765PRO All Stars (ep 10)
"Little Match Girl" by Azumi Asakura (ep 23)
"Marionette no Kokoro" (マリオネットの心) by Akiko Hasegawa (ep 13)
"Me ga Au Toki" (目が逢う瞬間(とき)) by Asami Imai (eps 13,26)
"Meisō Mind" (迷走Mind) by Hiromi Hirata (ep 8)
"My Best Friend" by Eriko Nakamura & Asami Imai (ep 13)
"My Wish" by Akiko Hasegawa & Mayako Nigo & Azumi Asakura & Hiromi Hirata & Rie Kugimiya & Naomi Wakabayashi (ep 22)
"Nanairo Button" (七彩ボタン) by Hiromi Hirata (ep 26)
"Nanairo Button" (七彩ボタン) by Rie Kugimiya & Chiaki Takahashi & Asami Shimoda (eps 18,23)
"Nemuri Hime" (眠り姫) by Asami Imai (ep 21)
"Next Life" by Manami Numakura (ep 13)
"Ohayō!! Asagohan" (おはよう!! 朝ご飯) by Asami Imai (ep 26)
"Omoide o Arigatō" (思い出をありがとう) by Azumi Asakura (ep 13)
"Otome yo Taishi o Dake!!" (乙女よ太志を抱け!!) by Eriko Nakamura (eps 4,13,26)
"READY!!&CHANGE!!!! SPECIAL EDITION" by 765PRO ALLSTARS (ep 25)
"relations" by Akiko Hasegawa (ep 22)
"Sayonara wo Arigatou" (さよならをありがとう;Thank You For The Goodbye) by Nakamura Eriko (ep 24)
"shiny smile (
[email protected]
)" by Chiaki Takahashi & Hiromi Hirata (ep 8)
"Smile Taisō" by Mayako Nigo (ep 15)
"Smoky Thrill" by Rie Kugimiya, Chiaki Takahashi & Asami Shimoda (ep 6)
"Star to Star" (スタ→トスタ→) by Asami Shimoda (ep 13)
"THE
[email protected]
" by Eriko Nakamura & Akiko Hasegawa & Asami Imai & Mayako Nigo & Azumi Asakura & Hiromi Hirata & Asami Shimoda & Yumi Hara & Manami Numakura (ep 13)
"Tonari ni... (隣に…;By Your Side)" by Chiaki Takahashi (ep 26)
"TRIAL DANCE" by Manami Numakura (ep 16)
"Waratte!" (笑って!) by Eriko Nakamura (ep 11)
"Watashi wa Idol♡" (私はアイドル♡) by Akiko Hasegawa (ep 13)
"Watashi wa Idol♡" (私はアイドル♡) by Rie Kugimiya & Mayako Nigo & Asami Shimoda (ep 2)
You can contribute information to this page, but first you must login or register
Japanese staff
Japanese cast





Japanese companies

English staff
English companies

Subtitle Editor

:

Laura Wyrick 

Broadcaster

:

Aniplus-Asia 

Internet Streaming

:

Crunchyroll

(North and South America)

 

English cast

(none)

This encyclopedia is collaboratively edited by the users of this site
# A B C D E F G H I J K L M N O P Q R S T U V W X Y Z
Anime anthology