Dokonjo Gaeru (TV)
Lookup sources in this page
To check what sources were provided for the information below, click on the
icon next to the item you want to check and then click on the "source" link that is displayed.
Note: you can set your
preferences
to
always
display the
icon while browsing the Encyclopedia.
© Yasumi Yoshizawa / Office Yasui·TMS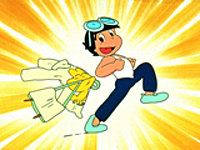 Alternative title:
Frog With Guts!
La Rana Raponchi (Spanish)
La Rana Valiente - Hiroshi y Raponchi (Spanish)
الضفدع ننوس (Arabic)
ど根性ガエル (Japanese)
Genres:
comedy
Objectionable content:
None
Plot Summary:
When Hiroshi was fighting against his rival Gorillaimo, he stumble over a stone and fell on to a frog. To be surprised, the frog was still alive and it named itself Pyonkichi.
Running time:
half hour per episode
Number of episodes:
103
Vintage:
1972-10-07 to 1974-09-28
Opening Theme:
"Dokonjo Gaeru" (ど根性ガエル) by Susumu Ishikawa, Arakawa Shounen Shoujo Gasshou-tai
Ending Theme:
#1: "Dokonjo de Yansu" (ど根性でヤンス) by Susumu Ishikawa
#2: "Dokonjo Gaeru Ondo" (ど根性ガエル音頭) by Susumu Ishikawa, Arakawa Shounen Shoujo Gasshou-tai, Sachiko Chijimatsu
#3: "Dokonjo Gaeru March" (ど根性ガエルマーチ) by Susumu Ishikawa
You can contribute information to this page, but first you must login or register
This encyclopedia is collaboratively edited by the users of this site
# A B C D E F G H I J K L M N O P Q R S T U V W X Y Z
Anime anthology