Super Mario Brothers: Peach-hime Kyuushutsu Daisakusen (movie)
Lookup sources in this page
To check what sources were provided for the information below, click on the
icon next to the item you want to check and then click on the "source" link that is displayed.
Note: you can set your
preferences
to
always
display the
icon while browsing the Encyclopedia.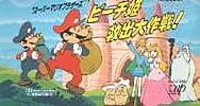 Alternative title:
Super Mario Brothers: Great Mission to Rescue Princess Peach
スーパーマリオブラザーズ ピーチ姫救出大作戦! (Japanese)
Objectionable content:
None
Plot Summary:
When Princess Peach is kidnapped by the monster King Koopa, Mario and his brother Luigi journey to the Mushroom Kingdom to rescue her.
User Ratings:
35 ratings have been given [details]
Running time:
One hour
Premiere date:
1986-07-20 (Japan)
Opening Theme:
"Doki Doki Do it! ~Bishi tto Bashi tto Rock'n Roll Gakkō-hen" (ドキ・ドキ Do it!~ビシッとバシッと Rock'n Roll 学校編~;Heart-Beating Do It! ~Snip Snap Rock'n Roll School Part~) by Mirai Dōji
Ending Theme:
"Adieu, My Love" (アデュ・マイラブ;Farewell, My Love) by Chikako Ishikawa
Insert song:
"Doki Doki Do it! ~Bishi tto Bashi tto Rock'n Roll Ren'ai-hen" (ドキ・ドキ Do it!~ビシッとバシッと Rock'n Roll 恋愛編~;Heart-Beating Do It! ~Snip Snap Rock'n Roll Romance Part~) by Mirai Dōji
"Suishō-dama" (水晶球;Crystal Ball) by Mami Yamase
You can contribute information to this page, but first you must login or register
Japanese staff
Japanese cast





Japanese companies
This encyclopedia is collaboratively edited by the users of this site
# A B C D E F G H I J K L M N O P Q R S T U V W X Y Z
Anime anthology