Fushigi na Koala Blinky (TV)
Unfortunately, due to abuse, anonymous error reports are no longer accepted. You must
login
in order to submit an error report.
Note: you can set your
preferences
to
always
display the
icon while browsing the Encyclopedia.
©NIPPON ANIMATION CO., LTD.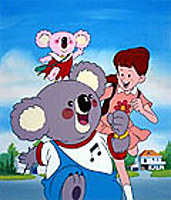 Alternative title:
Blinky the Wonderful Koala
Brinky and Printy
Les Koalous (French)
Noozles
Блинки, чудесная коала (Russian)
أحلام (Arabic)
أحلام ونعسان (Arabic)
ふしぎなコアラ ブリンキー (Japanese)
Objectionable content:
None
Plot Summary:
One day, Sandy's father, Prof. Brown, sends her a stuffed koala doll from one of his trips. Sandy discovers that, after rubbing the koala's nose, he comes alive. His name is Blinky and he is from the magical "down under" Koalawalla Land. They are soon joined by his little sister, Pinky. Adventures ensue in both Sandy's world and Koalawalla land. Among the characters met are 2 men after the "magical talking bear", a lizard that bounces back and forth from the magical realm and the real realm, and kangaroo police officers.
User Ratings:
52 ratings have been given [details]
Running time:
Half hour per episode
Number of episodes:
26
Vintage:
1984-07-07 to 1984-12-28
1988 (Saban dub)
Opening Theme:
"Fushigi Ufufu" by TARAKO
Ending Theme:
"Shabadaba Dakedo" by TARAKO
You can contribute information to this page, but first you must login or register
Japanese staff
Japanese cast





Japanese companies

English staff
English cast






English companies

Korean staff
Korean cast

(none)





Korean companies

Production

:

Bon Bon KBS Productions 

French staff
French cast

(none)





French companies
German staff
German cast

(none)


Carin Tietze as Blinky 

German companies

(none)

This encyclopedia is collaboratively edited by the users of this site
# A B C D E F G H I J K L M N O P Q R S T U V W X Y Z
Anime anthology