Idol Densetsu Eriko (TV)
Unfortunately, due to abuse, anonymous error reports are no longer accepted. You must
login
in order to submit an error report.
Note: you can set your
preferences
to
always
display the
icon while browsing the Encyclopedia.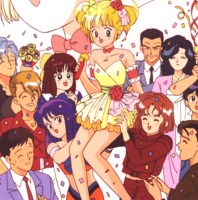 Alternative title:
Ciao Sabrina (Italian)
Erika (French)
Eriko (Spanish)
Legendary Idol Eriko
أيروكا (Arabic)
アイドル伝説えり子 (Japanese)
Genres:
drama
Plot Summary:
Eriko Tamura is Kousuke Tamura, the chairman of Tamura Productions (reknown music company) and Minako Tamura's (former famous idol singer) only daughter. Having talent for singing since birth, she has always loved her parent's media world. Then one day tragedy strikes when her parents get into a horrible car accident, which kills her father and leaves her mother in coma. She is left in her father's best friend, Mr. Uchida's care. Now Eriko must take the path of singing, a path her parents did not want her to pursue. Then her uncle is out to destroy her career. But in spite of all the hardship, she becomes an idol and wins hearts all over Japan.
Number of episodes:
51
Vintage:
1989-04-03 to 1990-03-26
1992-10 (Italian Air-Date)
2000-12-24 (France)
Opening Theme:
"Namida no Hanbun" by Eriko Tamura
Ending Theme:
#1: "Unchained Heart" by Maiko Hashimoto (eps 1-50)
#2: "May be Dream" by Eriko Tamura (ep 51)
Comment:
Modeled after a real idol
Eriko Tamura
(田村 英里子).
You can contribute information to this page, but first you must login or register
Japanese staff
Japanese companies

Japanese cast





French cast
French staff

Dubbing Director

:

Francis Lax 

Theme Song Performance

:

Claude Lombard 





French companies

Broadcaster

:

Mangas 

Distributor

:

AB distribution La 5 

Dubbing

:

SOFI 

Spanish staff
Spanish cast






Spanish companies

Italian staff
Italian cast




Italian companies

Broadcaster

:

Boing

(from 1st December 2008)

 Canale 5

(from 19 September 1991)

 Hiro

(from October 2009)

 Italia 1

(from October 1992)

 

Distributor

:

DENEB Film 

Dubbing

:

DENEB Film 

Arabic staff
Arabic companies

(none)


Arabic cast

Qasim Mlho as Kazuki Uchida 
This encyclopedia is collaboratively edited by the users of this site
# A B C D E F G H I J K L M N O P Q R S T U V W X Y Z
Anime anthology