Kasumin (TV)
Unfortunately, due to abuse, anonymous error reports are no longer accepted. You must
login
in order to submit an error report.
Note: you can set your
preferences
to
always
display the
icon while browsing the Encyclopedia.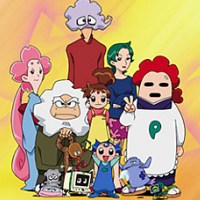 Alternative title:
Mistin - English title
Oideyo! Henamon Sekai Kasumin (Japanese)
カスミン (Japanese)
Genres:
comedy
,
slice of life
Plot Summary:
Haruno Kasumi is a fourth-grader. Her parents are zoologists who went over to Africa to carry out their research studies. In order to see off her parents, Kasumi arrived at Kasumi Town. In the middle of the town lies an enormous mansion surrounded by the forest. The mansion belongs to the Kasumi household, the family in which Kasumi will be lodging in and taken care of. There is a mysterious aura about the mansion and Kasumi discovers a series of talking appliances. The Kasumi family refers to these creatures as "Henamon". In return for living in with the family, Kasumi will be helping out with the household chores such as cooking and washing. Surrounded by various interesting characters, Kasumi begins a new chapter in her life.
Running time:
25 minutes per episode
Number of episodes:
78
Vintage:
2001-10-13 to 2002-04-06 (First Series)
2002-10-05 to 2003-04-05 (Second Series)
2003-04-09 to 2003-10-01 (Third Series)
Opening Theme:
"Nijiiro no Sunadokei" by Saori Yuki & Sachiko Yasuda
Ending Theme:
"Hoshi ga Utatta Monogatari" by Saori Yuki & Sachiko Yasuda
Official website:
カスミン @ NHK anime world
(Japanese)
You can contribute information to this page, but first you must login or register
This encyclopedia is collaboratively edited by the users of this site
# A B C D E F G H I J K L M N O P Q R S T U V W X Y Z
Anime anthology