Mobile Suit Gundam 0083: Stardust Memory (OAV)
Lookup sources in this page
To check what sources were provided for the information below, click on the
icon next to the item you want to check and then click on the "source" link that is displayed.
Note: you can set your
preferences
to
always
display the
icon while browsing the Encyclopedia.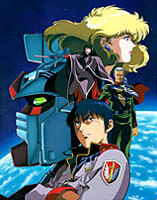 Alternative title:
Gundam 0083
Kidō Senshi Gundam 0083: Stardust Memory (Japanese)
機動戦士ガンダム0083 スターダストメモリー (Japanese)
機動戰士鋼彈0083:星塵作戰回憶錄 (Chinese (Taiwan))
Genres:
action
,
drama
,
science fiction
Themes:
mecha
,
military
,
real robot
,
space
,
space navy
,
war
Objectionable content:
Significant
Plot Summary:
U.C. 0083: Three years after the end of the catastrophic One Year War, peace on Earth and the colonies is shattered by the presence of the Delaz Fleet, a rogue Zeon military group loyal to the ideals of the late dictator Gihren Zabi. Delaz Fleet's ace pilot Anavel Gato, once hailed as "The Nightmare of Solomon", infiltrates the Federation's Torrington base in Australia and steals the nuclear-armed Gundam GP02A "Physalis" prototype. Rookie pilot Kou Uraki—with the aid of Anaheim Electronics engineer Nina Purpleton and the crew of the carrier Albion—takes control of the Gundam GP01 "Zephyranthes" prototype in an attempt to recover the stolen Gundam unit and prevent another war from breaking out.
User Ratings:
917 ratings have been given [details]
Running time:
half hour per episode
Number of episodes:
13
Vintage:
1991-05-23
2002-02-23 to 2002-05-18 (USA)
Opening Theme:
#1: "THE WINNER" by Miki Matsubara (eps 2-7)
#2: "MEN OF DESTINY" by MIO (eps 8-12)
Ending Theme:
#1: "MAGIC" by Jacob Wheeler (eps 1-7)
#2: "Evergreen" by MIO (eps 8-13)
Insert song:
"BACK TO PARADISE" by Miki Matsubara (eps 1,6)
"Magic" by Jacob Wheeler (ep 6)
Official website:
Gundam Official Homepage
Mobile Suit GUNDAM 0083 Official Website
(Japanese)
You can contribute information to this page, but first you must login or register
Japanese staff
Japanese cast





Japanese companies

English cast
English staff






English companies

Chinese (Taiwan) staff
Chinese (Taiwan) companies

(none)


Licensed by

:

Top-Insight International Co., Ltd. 

Chinese (Taiwan) cast

(none)

This encyclopedia is collaboratively edited by the users of this site
# A B C D E F G H I J K L M N O P Q R S T U V W X Y Z
Anime anthology