Dragon Ball (TV)
Unfortunately, due to abuse, anonymous error reports are no longer accepted. You must
login
in order to submit an error report.
Note: you can set your
preferences
to
always
display the
icon while browsing the Encyclopedia.
©2003 BIRD STUDIO/SHUEISHA, TOEI ANIMATION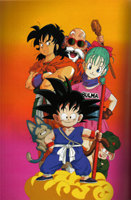 Alternative title:
Zero y el dragon (Spanish)
دراغون بول (Arabic)
ドラゴンボール (Japanese)
Genres:
adventure
,
comedy
,
fantasy
,
tournament
Themes:
aliens
,
developing powers
,
fighting
,
martial arts
Objectionable content:
Significant
Plot Summary:
Bulma is a girl in search of the mystical dragonballs that when brought together grant any wish. In her search she bumps into the owner of one of these balls, a strange boy named Goku. The two then set off together, Bulma in search of the dragonballs and Goku on a quest to become stronger.
User Ratings:
4139 ratings have been given [details]
Running time:
half hour per episode
Number of episodes:
153
Vintage:
1986-02-26 to 1989-04-19
1988-03-02 (France)
1989 (Italy - Junior TV)
1989-03-02 (Spain, Canal Sur)
1990-02-08 (Galicia, TVG)
1990-02-21 (Euskadi, ETB)
1990-02-26 (Catalunya, TV3)
1996-04 (Brazil - SBT - Episodes 1-60)
1997-01-11 (Spain, Antena 3)
1999-08-30 to 2000-08-23 (Germany - RTL II)
2001-08-20 (United Kingdom - Toonami)
2001-08-20 to 2003-12-01 (USA- Cartoon Network)
2002-07-09 to 2002-12-08 (Croatia - Nova TV)
2006-05-30 (Cartoon Network L.A.)
2006-09-18 (Spain, Cuatroº)
2014-01-01 (Tooncast - Latin America)
Opening Theme:
"Makafushigi Adventure!" (魔訶不思議アドベンチャー!) by Hiroki Takahashi
"Mystical Adventure! (English Version)" by Carl Finch
Ending Theme:
"I'll Give You Romance (English Version)" by Daphne Gere
"Romantic Ageru Yo" (ロマンティックあげるよ) by Ushio Hashimoto
Insert song:
"Aoki Tabibito-tachi" (青き旅人たち) by Hiroki Takahashi (ep 78)
"DragonBall Densetsu" (ドラゴンボール伝説) by Hiroki Takahashi (eps 30,33,35,76)
"Fushigi Wonderland" (不思議ワンダーランド) by Wonderland Gang (ep 29)
"Mezase Tenkaichi" (めざせ 天下一) by Hiroki Takahashi (eps 28,86,95)
"Moeru Heart de Red Ribbon Gun o Yattsukero" (燃えるハートで 〜レッドリボン軍をやっつけろ〜) by Wonderland Gang (ep 65)
"Muten Rōshi no Oshie" (武天老師の教え) by Kōhei Miyauchi (ep 130)
"Red Ribbon Army" (レッドリボンアーミー) by Takayuki Miyauchi (ep 48)
"Son Gokū Song" (孫悟空ソング) by Masako Nozawa (ep 43)
"Wolf Hurrcane" (ウルフハリケーン) by Tōru Furuya (ep 87)
Official website:
Press Release:
You can contribute information to this page, but first you must login or register
This encyclopedia is collaboratively edited by the users of this site
# A B C D E F G H I J K L M N O P Q R S T U V W X Y Z
Anime anthology