Tenchi Universe (TV)
Unfortunately, due to abuse, anonymous error reports are no longer accepted. You must
login
in order to submit an error report.
Note: you can set your
preferences
to
always
display the
icon while browsing the Encyclopedia.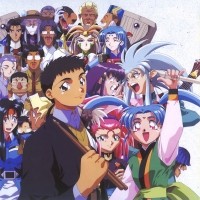 Alternative title:
El Universo de Tenchi (Spanish)
Tenchi Muyo! (Japanese)
天地無用! (Japanese)
Genres:
adventure
,
comedy
,
drama
,
romance
,
science fiction
,
supernatural
Objectionable content:
Significant
Plot Summary:
Tenchi Masaki may be a 17-year-old young man in rural Japan, but little does he know how bad his day will be getting. When a space pirate chased by a pair of Galaxy Police officers crash-lands at his grandfather's temple, Tenchi is sucked into a new adventure that will literally blast him off into outer space and beyond.
User Ratings:
1637 ratings have been given [details]
Running time:
half hour per episode
Number of episodes:
26
Vintage:
1995-04-02 to 1995-09-24
2000-07-20 to 2000-08-24 (USA)
Opening Theme:
"Tenchi Muyo!" by Sonia
Ending Theme:
"Up-walk in Galaxy (English)" by Diane Michelle
#1: "Up-walk in Galaxy (Japanese, Ryoko version)" by Ai Orikasa (eps 1-6,8,12,13,15-17,19,20,22,24)
#2: "Up-walk in Galaxy (Japanese, Aeka version)" by Yumi Takada (eps 7,9,11,14,18,21,23,25)
Official website:
AIC's Official Tenchi Muyo! Homepage
AIC's TEN-CHI-MUYO!
(Japanese)
You can contribute information to this page, but first you must login or register
This encyclopedia is collaboratively edited by the users of this site
# A B C D E F G H I J K L M N O P Q R S T U V W X Y Z
Anime anthology