Mermaid Forest (TV)
Unfortunately, due to abuse, anonymous error reports are no longer accepted. You must
login
in order to submit an error report.
Note: you can set your
preferences
to
always
display the
icon while browsing the Encyclopedia.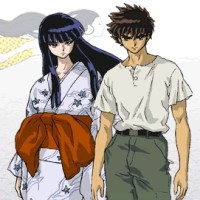 Alternative title:
A Saga da Sereia (Portuguese)
La Foresta delle Sirene (Italian)
La saga de la sirena (Spanish)
La Selva de Sirenas (Spanish)
Ningyo no Mori (Japanese)
Rumic Theater: Mermaid Forest
Takahashi Rumiko Gekijou: Ningyo no Mori (Japanese)
人魚之森 (Chinese (Taiwan))
高橋留美子劇場 人魚の森 (Japanese)
Objectionable content:
Intense
Plot Summary:
According to an ancient legend, mermaid's flesh can grant immortality if eaten. 500 years ago, Yuta unknowingly ate a piece of mermaid's flesh. For centuries, he travels across Japan, hoping to find a mermaid, thinking she may be able to make him a normal human again. When he finally finds one, he discovers that she and her companions have been raising a girl to be their food so they can eat her and take on her youthful looks. That is how mermaids stay young. Yuta kills the mermaids and rescues her, but she has already eaten some of the mermaid's flesh. Although he had to kill the mermaids, Yuta isn't too disappointed. Yuta's once lonely existence is now over, as he has found a companion in Mana. And Mana, who had been trapped in a small hut her whole life, finds delight in even the simplest of things. Together, Yuta and Mana attempt to seek out more mermaids, trying to become normal humans again.
User Ratings:
483 ratings have been given [details]
Running time:
22 minutes per episode
Number of episodes:
13
Vintage:
2003-10-04 to 2003-12-20
Opening Theme:
"Like an angel" by Chiaki Ishikawa
Ending Theme:
"Mizu tamari (Water Puddle)" by kayoko
"Mizu tamari" by kayoko
Official website:
GENEON's Official "Mermaid Forest" Website
TV Tokyo's Official Mermaid Forest Homepage
(Japanese)
人魚之森
(Chinese (Taiwan))
Comment:
Episodes twelve and thirteen were not broadcast, but rather were released along with the rest of the series when it came to DVD.
You can contribute information to this page, but first you must login or register
This encyclopedia is collaboratively edited by the users of this site
# A B C D E F G H I J K L M N O P Q R S T U V W X Y Z
Anime anthology