Cromartie High School (TV)
Lookup sources in this page
To check what sources were provided for the information below, click on the
icon next to the item you want to check and then click on the "source" link that is displayed.
Note: you can set your
preferences
to
always
display the
icon while browsing the Encyclopedia.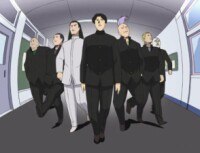 Alternative title:
Charge!! Cromartie High
Le Bahut des Tordus (French)
Sakigake!! Cromartie Koukou (Japanese)
魁!! クロマティ高校 (Japanese)
魁!! 天兵高校 (Chinese (Taiwan))
Genres:
comedy
,
slice of life
Themes:
delinquents
,
parody
Objectionable content:
Significant
Plot Summary:
Folks, meet Takashi Kamiyama. Enrolled at Cromartie High, where everybody is a delinquent, Kamiyama is apparently the only non-delinquent in the school. Logically, therefore, he must be the toughest in his class - by the rather twisted logic that only a really tough rabbit would lie down with lions. Thus begins a story that parodies every cliché of tough-guy anime that you've ever heard of, and some you haven't. Oh, and Freddie Mercury is in it, too.
User Ratings:
1194 ratings have been given [details]
Running time:
12 minutes per episode
Number of episodes:
26
Vintage:
2003-10-02 to 2004-03-25
2005-12-17 to 2006-01-28 (U.S. - "Anime Unleashed" (G4) [Eps. #1-13])
Opening Theme:
"Jun" by Takuro Yoshida
Ending Theme:
"Trust Me" by Kunio Suma [Bikyoran]
#2: "Cromartie High School School Song" by Sun Plaza Nakano (eps 19,23)
Official website:
You can contribute information to this page, but first you must login or register
Japanese staff
Japanese cast





Japanese companies

English staff
English cast






English companies

French staff
French companies

(none)


Distributor

:

Kaze 

French cast

(none)


Dutch staff
Dutch companies

(none)


Distributor

:

Kaze Animation S.A. 

Dutch cast

(none)


Tagalog cast
Tagalog staff

(none)


Alexx Agcaoili as Mechazawa Takeshi Hokuto 

Pocholo Gonzales as Akira Maeda Pootan 

Tagalog companies

Broadcaster

:

Hero 

Chinese (Taiwan) staff
Chinese (Taiwan) companies

(none)


Licensed by

:

Top-Insight International Co., Ltd. 

Chinese (Taiwan) cast

(none)

This encyclopedia is collaboratively edited by the users of this site
# A B C D E F G H I J K L M N O P Q R S T U V W X Y Z
Anime anthology