Spirited Away (movie)
Lookup sources in this page
To check what sources were provided for the information below, click on the
icon next to the item you want to check and then click on the "source" link that is displayed.
Note: you can set your
preferences
to
always
display the
icon while browsing the Encyclopedia.
©2001 Nibariki • TGNDDTM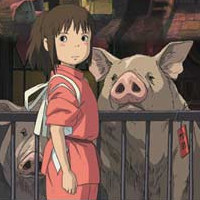 Alternative title:
A Viagem de Chihiro (Portuguese)
Chihiro lạc vào sứ thần bí (Vietnamese)
Chihiro og heksene (Danish)
Chihiro Szellemországban
Chihiros Reise ins Zauberland (German)
De reis van Chihiro (Dutch)
El Viaje de Chihiro (Spanish)
La Città Incantata (Italian)
Las Aventuras de Chihiro (Spanish)
Le Voyage de Chihiro (French)
Sen to Chihiro no Kamikakushi (Japanese)
Spirited Away: W krainie bogów (Polish)
Vùng đất linh hồn (Vietnamese)
Сэн и Чихиро Унесённые Призраками (Russian)
Унесённые призраками (Russian)
千と千尋の神隠し (Japanese)
千與千尋 (Chinese (Hong Kong))
神隱少女 (Chinese (Taiwan))
센과 치히로의 행방불명 (Korean)
Themes:
spirits
Objectionable content:
Mild
Plot Summary:
On their way to their new home, a young girl, Chihiro, and her parents stumble into what appears to be an abandoned theme park. But all is not as it seems, as the theme park is a bath-house for the spirits, and not a place where humans are welcome. Chihiro must fend for herself and rescue her parents, as they have been turned to pigs as punishment for eating the food meant for the gods.
User Ratings:
10269 ratings have been given [details]
Running time:
125 minutes
Vintage:
2001-07-20
2003-12 (Brazil - VHS/DVD)
2006-01-06 (Spain, Cuatroº: Noche Manga)
2006-03-19 (Disney Channel Latin America)
2006-05-07 (Jetix Latin America)
Premiere date:
2001-07-20 (Japan)
2002-04-10 (France)
2002-09-20 (USA)
2003-01-17 (Italy - Future Film Festival)
2003-07-18 (Brazil)
2003-09-19 (Sweden)
2007-09-08 (Sweden)
2007-09-30 (Canada - CBC)
Chronology:
(2003-03-23) Spirited Away wins Best Animated Feature Oscar Award
Ending Theme:
"Itsumo Nando de mo" (いつも何度でも; "Always with Me") by Yumi Kimura
Official website:
Madman Entertainment's Official Spirited Away Homepage (Australia)
Miyazaki Collection @ Disney
Optimum's Official Spirited Away Sales Site
Comment:
Spirited Away
is the first Japanese animated film to win the Academy Award for Best Animated Feature (2002).
Press Releases:
You can contribute information to this page, but first you must login or register
This encyclopedia is collaboratively edited by the users of this site
# A B C D E F G H I J K L M N O P Q R S T U V W X Y Z
Anime anthology