Mobile Suit Gundam MS IGLOO: The Hidden One Year War (movies)
Unfortunately, due to abuse, anonymous error reports are no longer accepted. You must
login
in order to submit an error report.
Note: you can set your
preferences
to
always
display the
icon while browsing the Encyclopedia.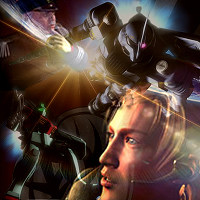 Alternative title:
Gundam MS IGLOO: The Hidden One Year War
Kidō Senshi Gundam MS IGLOO: Ichinen Sensō Hiwa (Japanese)
機動戦士ガンダム MS IGLOO <イグルー> -1年戦争秘話- (Japanese)
機動戰士鋼彈MS IGLOO 一年戰爭秘錄 (Chinese (Taiwan))
Genres:
action
,
science fiction
Objectionable content:
Significant
Plot Summary:
The year is Universial Century 0079. Oliver May is a technical officer in the Zeon 603rd Technical Evaluation Unit, in charge of testing new military technology. Stationed in the Jotunheim, a civilian transport ship that was converted into military use, Oliver must head into battle and experience the One Year War, only this time from the perspective of a weapon tester who struggles to make an impact on an evolving war during changing times.
User Ratings:
182 ratings have been given [details]
Running time:
27 minutes per episode
Number of episodes:
3
Premiere date:
2004-07-19 (Bandai Museum Ep 1: The Serpent That Vanished At Loum)
2004-07-19 (Bandai Museum Ep 2: The Howl That Stained The Setting Sun)
2004-11-03 (Bandai Museum Ep 3: The Rapid Illusion Above The Orbit)
Opening Theme:
"Sora no Tamoto (The Origin of Space-Time)" by Taja
Ending Theme:
"Hanki Tanabiku (Flag Hung At Half-Mast)" by Megumi Oohashi
Official website:
Comment:
A three-part, fully-rendered 3D CGI feature initially screened at Bandai Museum in Japan. Part of Gundam's 25th Anniversary Celebration.
Review:
You can contribute information to this page, but first you must login or register
This encyclopedia is collaboratively edited by the users of this site
# A B C D E F G H I J K L M N O P Q R S T U V W X Y Z
Anime anthology