Future GPX Cyber Formula Saga (OAV)
Lookup sources in this page
To check what sources were provided for the information below, click on the
icon next to the item you want to check and then click on the "source" link that is displayed.
Note: you can set your
preferences
to
always
display the
icon while browsing the Encyclopedia.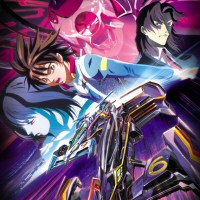 Alternative title:
Cyber Formula Saga
Shinseki-GPX Cyber Formula Saga
新世紀GPXサイバーフォーミュラSAGA (Japanese)
閃電霹靂車SAGA (Chinese (Taiwan))
Genres:
drama
,
science fiction
,
tournament
Themes:
auto racing
,
sports
Objectionable content:
Significant
Plot Summary:
After his disappointing loss in the last round of the 14th Cyber Formula World Grand Prix, which causes him the championship, Hayato Kazami decides that he needs a change and switches over to the Sugo Garland SF-03 for the 15th Cyber Formula World Grand Prix while he waits for the newest Asurada design. However, his hope to make up for the past year's letdown is made difficult when Aoi ZIP Formula undergoes a major restructuring and brings in Kyoshiro Nagumo as the new president of the team. The new car that he brought to the team, driven by newcomer Phil Fritz, is seemingly unbeatable...
User Ratings:
26 ratings have been given [details]
Number of episodes:
8
Opening Theme:
"Identity Crisis" by CaYOCO
Ending Theme:
#1: "WILD at HEART" by CaYOCO (eps 1-3,5-7)
#2: "Believe" by CaYOCO (ep 4)
#3: "Adagio (Final)" by CaYOCO (ep 8)
Official website:
Official Cyber Formula Web
(Japanese)
VAP
You can contribute information to this page, but first you must login or register
Japanese staff
Japanese cast





Japanese companies

Italian staff
Italian cast




Italian companies
Chinese (Taiwan) staff
Chinese (Taiwan) companies

(none)


Licensed by

:

Top-Insight International Co., Ltd. 

Chinese (Taiwan) cast

(none)

This encyclopedia is collaboratively edited by the users of this site
# A B C D E F G H I J K L M N O P Q R S T U V W X Y Z
Anime anthology