Saint Seiya (TV)
Unfortunately, due to abuse, anonymous error reports are no longer accepted. You must
login
in order to submit an error report.
Note: you can set your
preferences
to
always
display the
icon while browsing the Encyclopedia.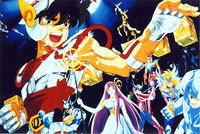 Alternative title:
I Cavalieri dello Zodiaco (Italian)
Il ritorno dei Cavalieri dello Zodiaco (Italian)
Knights of the Zodiac
Les Chevaliers du Zodiaque (French)
Los Caballeros Del Zodiaco (Spanish)
Os Cavaleiros do Zodíaco (Portuguese)
Rycerze Zodiaku (Polish)
فرسان البرج (Arabic)
聖闘士星矢 <セイントセイヤ> (Japanese)
聖鬥士星矢 (Chinese (Taiwan))
성투사 세이야 (Korean)
Genres:
action
Themes:
bishounen
,
constellations
,
fighting
,
gods
Objectionable content:
Significant
Plot Summary:
Ages ago, the goddess Athena was served by fighters called Saints who channeled the power of the Cosmos within them. Now a youth named Seiya has trained to become a Saint himself by earning the mystical Cloth of Pegasus. He is joined by other Saints with Cloths of their own to fight for Athena.
User Ratings:
905 ratings have been given [details]
Running time:
25 minutes per episode
Number of episodes:
114
Vintage:
1986-10-11 to 1989-04-01
1988-04-06 (France)
1990-03 (Italy)
1990-07-08 to 1990-10-06 (Spain - TVE1, 26 episodes)
1991-09-16 to 1992-02-26 (Spain - Telecinco, 114 episodes)
1994 (Mexico, TV Azteca: 1st time)
1994-09-01 to 1997-09-19 (Brazil - Rede Manchete)
2003-08-30 to 2004-04-10 (USA- Eps. 1-32 on Cartoon Network)
2003-09-01 (Brazil - Cartoon Network)
2004-07-05 (Brazil - Rede Bandeirantes)
2005-05-30 (Mexico, TV Azteca: 2nd time)
2006-04-01 (Cartoon Network Spain)
2006-04-30 (CN Mexico- KND: OPERACION I.N.V.A.S.I.O.N. Eps 98-.114)
Opening Theme:
"I Ran" by Bowling for Soup-DiC dub
#1: "Pegasus Fantasy" (Brazilian Portuguese) by Edu Falaschi
#1: "ペガサス幻想 -Pegasus Fantasy-" by MAKE.UP
#2: "聖闘士神話 ~ソルジャー・ドリーム~ (
Saint Shinwa ~Soldier Dream~
)" by Hironobu Kageyama & BROADWAY
Ending Theme:
#1: "BLUE FOREVER" (Brazilian Portuguese) by Edu Falaschi
#1: "永遠ブルー (
Eien Blue
) -BLUE FOREVER-" by MAKE.UP [Sanctuary Chapter]
#2: "夢旅人 (
Yume Tabibito
) -BLUE DREAM-" By Hironobu Kageyama & BROADWAY
Insert song:
"Beautiful Child" by Mitsuko Horie (ep 16)
"Can't Say Goodbye" by Make-Up (ep 13)
"Diamond Dust" by Makeup Project (ep 108)
"Final Soldier" by Mitsuko Horie (ep 20)
"Lullaby" by Mitsuko Horie (ep 30)
"Nebula Chain" by Makeup Project (ep 46)
Official website:
Brazilian Official Saint Seiya's Website
(Portuguese)
Saint Seiya @ Toei Animation
(Japanese)
聖鬥士星矢官方網站
(Chinese (Taiwan))
Press Releases:
You can contribute information to this page, but first you must login or register
This encyclopedia is collaboratively edited by the users of this site
# A B C D E F G H I J K L M N O P Q R S T U V W X Y Z
Anime anthology