End of the World (OAV)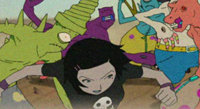 Alternative title:
Конец света (Russian)
Objectionable content:
Significant
Plot Summary:
Kazumi is at a punk concert and bumps into Yuko. Yuko is a girl from another dimension. Kazumi invites Yuko over to her apartment. There Yuko's robotic sidekick and stead Face comes from out of the t.v. The wall opens up and Yuko and Face enter into different dimension. Yuko seeks to kill the creator of the dimension to end the suffering of it's people.
Yuko meets Kazumi, who claims not to be from Earth, at a rock concert, and they become instant friends. Yuko invites her new friend to come live with her. However, onces Kazumi gets to Yuko's apartment, she leaves through the wall with her trusty cybernetic steed and into another dimension to face evil.
User Ratings:
122 ratings have been given [details]
Opening Theme:
"サルーン (Saloone)" by Lolita No.18
Ending Theme:
"マイケル卍サントジェン (Michael Manji St. John)" by Lolita No.18
You can contribute information to this page, but first you must login or register
Japanese staff
Japanese cast





Japanese companies
This encyclopedia is collaboratively edited by the users of this site
# A B C D E F G H I J K L M N O P Q R S T U V W X Y Z
Anime anthology