Blood+ (TV)
Lookup sources in this page
To check what sources were provided for the information below, click on the
icon next to the item you want to check and then click on the "source" link that is displayed.
Note: you can set your
preferences
to
always
display the
icon while browsing the Encyclopedia.
©2005 Production I.G • Aniplex • MBS • HAKUHODO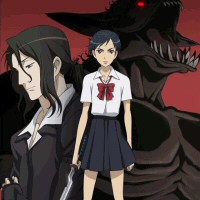 Alternative title:
Blood, el último vampiro (Spanish)
Кровь+ (Russian)
بلود + (Arabic)
ブラッドプラス (Japanese)
血戰 (Chinese (Taiwan))
블러드+ (Korean)
Genres:
action
,
drama
,
horror
,
mystery
,
supernatural
Objectionable content:
Intense
Plot Summary:
Throughout the passage of time and the shifts in backgrounds, a particular war continues to leave its mark on history, extending its influence into the modern world. There are two major groups involved in the ensuring war. The first group consists of monsters known as Chiropterans who can change their appearances into that of human beings. They are actually immortals who feed on the blood of the living. The second group is an organisation known as the "Red Shield", formed to track down these monsters and exterminate them. Otonashi Saya is a high-school girl who lives a peaceful life with her family. The only problem is, she has no recollections of her life beyond that of the past year. However, her happy life will be destroyed by an event that will lead her to her destined fate.
User Ratings:
5146 ratings have been given [details]
Running time:
half hour per episode
Number of episodes:
50
Vintage:
2005-10-08 to 2006-09-23
2007-03-11 to 2008-03-23 (USA, Cartoon Network - Adult Swim)
2007-04-12 (Animax Asia - Philippines)
2007-04-17 (Spain - TVE)
2007-04-29 (Animax Asia - Singapore and Thailand)
2007-04-30 (Animax Latin America)
2007-08-07 (Spain - Canal Buzz)
2008-02-03 (Poland, AXN Sci-Fi)
2008-03-24 (Russia, 2x2)
2008-03-24 to 2008-05-26 (Russia,2x2)
2008-11-03 to 2009-11-17 (Malaysia, Animax Mobile)
2009-03-23 (Philippines, Studio 23)
Opening Theme:
#1: "青空のナミダ (Aozora no Namida)" by Hitomi Takahashi (eps 1-13)
#2: "SEASON'S CALL" by HYDE (eps 14-25)
#3: "Colors of the Heart" by UVERworld (eps 26-38)
#4: "雷音 (Raion)" by Jinn (eps 39-50)
Ending Theme:
#1: "語り継ぐこと (Kataritsugu koto)" by Chitose Hajime (eps 1-13,50)
#2: "CRY NO MORE" by Mika Nakashima (eps 14-25)
#3: "This Love" by Angela Aki (eps 26-38)
#4: "Brand New Map" by K (eps 39-49)
Official website:
You can contribute information to this page, but first you must login or register
This encyclopedia is collaboratively edited by the users of this site
# A B C D E F G H I J K L M N O P Q R S T U V W X Y Z
Anime anthology