Bludgeoning Angel Dokuro-chan (TV)
Lookup sources in this page
To check what sources were provided for the information below, click on the
icon next to the item you want to check and then click on the "source" link that is displayed.
Note: you can set your
preferences
to
always
display the
icon while browsing the Encyclopedia.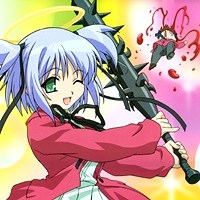 Alternative title:
Bokusatsu Tenshi Dokuro-chan (Japanese)
Club-To-Death Angel Dokuro-chan
Убойный ангел Докуро-тян (Russian)
撲殺天使ドクロちゃん (Japanese)
Themes:
absurdity
,
angels
,
ecchi
,
fanservice
,
gratuitous violence
,
magical girl
Objectionable content:
Intense
Plot Summary:
In the future, a man named Sakura is destined to create the technology for eternal life, which (due to Sakura's lolicon tendencies) freezes all women's aging once they turn twelve. God refuses to allow this, so he sends his angels to the past to kill Sakura before he can do this. But one angel, Dokuro-chan, decides to try to change the future without killing him. Problem is, Dokuro is very temperamental, and is constantly killing Sakura (and lots of other people too) in incredibly bloody ways with her giant spiked club. Good thing she can bring people back to life - if only to grusomely kill them again the next time she loses her temper.
User Ratings:
2325 ratings have been given [details]
Running time:
13 minutes per episode
Number of episodes:
8
Vintage:
2005-03-12 to 2005-09-10
Opening Theme:
"Bokusatsu Tenshi Dokuro-chan" by Saeko Chiba
Ending Theme:
"SURVIVE" by Saeko Chiba
Official website:
Bokusatsu Tenshi Dokuro-chan
(Japanese)
Comment:
Although there are technically 8 episode titles, these were aired as 4 TV episode segments. Each half-hour broadcast of Dokuro-chan contains 2 13-minute episodes. They each have a separate title, but the OP and ED are each played only once, and the two parts are related.
The subtitled-only DVD release listed below also includes the follow-up OVA episodes.
You can contribute information to this page, but first you must login or register
This encyclopedia is collaboratively edited by the users of this site
# A B C D E F G H I J K L M N O P Q R S T U V W X Y Z
Anime anthology