Mobile Suit Gundam MS IGLOO: Apocalypse 0079 (OAV)
Unfortunately, due to abuse, anonymous error reports are no longer accepted. You must
login
in order to submit an error report.
Note: you can set your
preferences
to
always
display the
icon while browsing the Encyclopedia.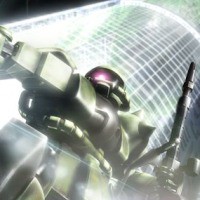 Alternative title:
Gundam MS IGLOO: Apocalypse 0079
Kidō Senshi Gundam MS IGLOO: Mokushiroku 0079 (Japanese)
機動戦士ガンダム MS IGLOO <イグルー> -黙示録0079- (Japanese)
機動戰士鋼彈MS IGLOO 默示錄 (Chinese (Taiwan))
Genres:
science fiction
Objectionable content:
Significant
Plot Summary:
Lieutenant Oliver May and the 603 Technical Division Unit aboard the Jotunheim continue testing and evaluating experimental weapons to aid the Zeon war effort against the Federation Forces. At the end of each experiment, the tale of the trials and tribulations faced by the weapon and its test pilot adds a small chapter to the long history of the One Year War.
User Ratings:
166 ratings have been given [details]
Running time:
27 minutes per episode
Number of episodes:
3
Opening Theme:
"夢轍 ~ユメワダチ~ Yume Wadachi (Dream Rut)" by Taja
Ending Theme:
"Hanki Tanabiku (Flag Hung At Half-Mast)" by Megumi Oohashi
Official website:
Bandai Channel's Kidou Senshi Gundam MS IGLOO: Mokushiroku 0079 page
(Japanese)
MOBILE SUIT GUNDAM MS IGLOO OFFICIAL WEB SITE
Official MS IGLOO Site
(Japanese)
You can contribute information to this page, but first you must login or register
This encyclopedia is collaboratively edited by the users of this site
# A B C D E F G H I J K L M N O P Q R S T U V W X Y Z
Anime anthology