Co-ed Affairs (OAV)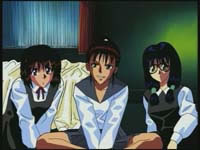 Alternative title:
Kōin Tenshi - Haitoku no Lycéenne (Japanese)
交淫天使 背徳のリセエンヌ (Japanese)
Objectionable content:
Pornography
Plot Summary:
A group of naïve and curious friends, Moemi, Reina and Mitsugu, decide to document their first sexual exploration on video. As they learn more about their bodies, their video's theme evolves from a mere sexual documentary into an ultra kinky adult video. The young women are totally uninhibited and candid in their exploration of each other and in the erotic topics they choose to cover in their spicy little film.
User Ratings:
27 ratings have been given [details]

 Excellent: 2 votes

(dub:1, sub:1)

 Very good: 1 vote

(sub:1)

 Good: 2 votes

(sub:1, dub:1)

 Decent: 4 votes

(sub:3, dub:1)

 So-so: 4 votes

(sub:3, dub:1)

 Not really good: 4 votes

(sub:3, dub:1)

 Awful: 5 votes

(sub:3, dub:2)

 Worst ever: 2 votes

(sub:2)

Seen in part or in whole by 67 users, rank: #4134 (of 6360)
Median rating: So-so
Arithmetic mean: 4.111 (Not really good), std. dev.: 2.6713, rank: #6138 (of 6361)
Weighted mean: 4.295 (Not really good+), rank: #6132 (of 6361)

(seen all: 4.30 / won't finish: 0.00)


Bayesian estimate: 5.290 (So-so+), rank: #4694 (of 4845)

Official website:
Comment:
Bundled with
Office Affairs
in Media Blasters'
The Affairs
DVD release.
You can contribute information to this page, but first you must login or register
This encyclopedia is collaboratively edited by the users of this site
# A B C D E F G H I J K L M N O P Q R S T U V W X Y Z
Anime anthology