Unico in the Island of Magic (movie)
Lookup sources in this page
To check what sources were provided for the information below, click on the
icon next to the item you want to check and then click on the "source" link that is displayed.
Note: you can set your
preferences
to
always
display the
icon while browsing the Encyclopedia.
©SANRIO CO., LTD. / Tezuka Productions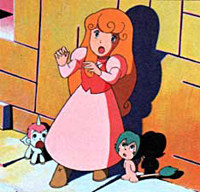 Alternative title:
The Fantastic Adventure of Unico 2
Unico: Mahō no Shima e (Japanese)
Unico: To the Magic Island
ユニコ 魔法の島へ (Japanese)
Objectionable content:
None
Plot Summary:
Unico the unicorn has the amazing power to make anyone he meets happy. In this adventure, Unico finds himself with a new friend, a young girl named Cherry. However, Cherry's long lost older brother Toby has finally come home, and is now a misguided apprentice to an insane (and not human) magician named Kuruku. When Cherry's parents get turned into weird, almost zombie-like dolls called living puppets, she and Unico start a quest to the very ends of the earth to get her parents and brother back before Kuruku takes over the world.
User Ratings:
81 ratings have been given [details]
Running time:
91 minutes
Vintage:
1983
Premiere date:
1983-07-16 (Japan)
Ending Theme:
"Do-Re-Mi-Fa Lullaby" by Emiko Shiratori
Official website:
TezukaOsamu.net's The Fantastic Adventure of Unico 2 page
TezukaOsamu.net's Unico: Mahō no Shima e page
(Japanese)
Madhouse Studios' Unico Page
(Japanese)
You can contribute information to this page, but first you must login or register
This encyclopedia is collaboratively edited by the users of this site
# A B C D E F G H I J K L M N O P Q R S T U V W X Y Z
Anime anthology