Ehrgeiz (TV)
Unfortunately, due to abuse, anonymous error reports are no longer accepted. You must
login
in order to submit an error report.
Note: you can set your
preferences
to
always
display the
icon while browsing the Encyclopedia.
©et・BeSTACK/PROJECT EHRGEIZ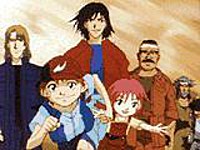 Alternative title:
Ehrgeiz: The Next War
Next Senki Ehrgeiz (Japanese)
Next War Chronicle Ehrgeiz
Record of Next War EHRGEIZ
ネクスト戦記EHRGEIZ (Japanese)
ネクスト戦記エーアガイツ (Japanese)
Genres:
action
,
science fiction
Themes:
mecha
Objectionable content:
Significant
Plot Summary:
Earth started space colonization by creating the Next Colonies. Next later rebelled, and created the Next Government. The rebellion became a war, and the multi-purpose Metal Vehicles, MVs for short, were changed for battle purposes. Meanwhile, Terra, an Earth Rebellion force, started creating more trouble for Earth. Now, a mysterious MV-like being, S.A.C ("S" for short), is loose, and Next wants it so that they can win the war. Terra's psychic leader, Hal, has been sensing "S", and wants to know more about the power it has. The future of these three groups will be up to a bunch of outlaws who live on the abandoned Next 7 colony, though no one knows that yet...
Running time:
26 minutes per episode
Number of episodes:
12
Vintage:
1997-10-01 to 1997-12-24
Opening Theme:
"Dream Jack" by HUMMING BIRD
Ending Theme:
"One Voice for Ehrgeiz" by Mariko Fukui
Official website:
d-rights Ehrgeiz Website
Comment:
Not related to the SquareSoft videogame
Ehrgeiz
.
You can contribute information to this page, but first you must login or register
This encyclopedia is collaboratively edited by the users of this site
# A B C D E F G H I J K L M N O P Q R S T U V W X Y Z
Anime anthology