Lucky Star (TV)
Lookup sources in this page
To check what sources were provided for the information below, click on the
icon next to the item you want to check and then click on the "source" link that is displayed.
Note: you can set your
preferences
to
always
display the
icon while browsing the Encyclopedia.
© Kagami Yoshimizu / Lucky Paradise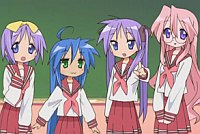 Alternative title:
らき☆すた (Japanese)
幸運星 (Chinese (Taiwan))
러키☆스타 (Korean)
Genres:
comedy
,
slice of life
Objectionable content:
Mild
Plot Summary:
Portrays the lives of several school girls attending a Japanese high school with a very loose humor tone. The main heroine is Konata Izumi, an athletic and intelligent girl who, despite these attributes, is not in a sports club, and her grades remain low. Her laziness at school is due to her love for anime and video games, and she is not interested in much else.
User Ratings:
3863 ratings have been given [details]
Running time:
24 minutes per episode
Number of episodes:
24
Vintage:
2007-04-08 to 2007-09-16
2010-03-08 to 2010-04-12 (Philippines, TV5 Animega)
Opening Theme:
"Motteke! Sailor Fuku (もってけ!セーラーふく)" by Aya Hirano, Emiri Katou, Kaori Fukuhara & Aya Endo
Ending Theme:
#01: "Space Ironmen Brothers" by Aya Hirano
#02: "It's a Victory! Akumaizer 3" by Aya Hirano
#03: "Sore ga, Ai deshou" by Aya Hirano
#04: "Sailor Suit and Machine Gun" by Emiri Katō
#05: "Cha-la Head-Cha-la" by Aya Hirano
#06: "Valentine Kiss" by Aya Hirano & Kaori Fukuhara
#07: "Chijō no Hoshi" by Aya Endo
#08: "Monkey Magic" by Aya Hirano
#09: "Kogarashi Ni Dakarete" by Aya Hirano
#10: "I'm Proud" by Emiri Katou
#11: "Doraemon no Uta" by Aya Endo & Kaori Fukuhara
#12: "Don't Lose" by All Lucky Star Staff
#13: "Ore no Wasuremono (俺の忘れ物)" by Minoru Shiraishi
#14: "Hare Hare Yukai (ハレ晴レユカイ)" by Minoru Shiraishi
#15: "Koi no Minoru Densetsu (恋のミノル伝説)" by Minoru Shiraishi
#16: "Misoji Misaki (三十路岬)" by Hiromi Konno
#17: "Motteke! Serafuku (もってけ!セーラーふく)" by Minoru Shiraishi
#18: "Kaorin no Theme (かおりんのテーマ)" by Minoru Shiraishi
#19: "Otoko no Ikizama (男の生き様)" by Minoru Shiraishi
#20: "Omuko Rumba (お婿ルンバ)" by Minoru Shiraishi
#21: "Shikaider no Uta (シカイダーの唄)" by Minoru Shiraishi
#22: "Mikuru Henshin! Soshite Sentou (ミクル変身!そして戦闘!)" by Minoru Shiraishi (ep 23)
#23: "Ai wa Boomerang" (愛はブーメラン) by Minoru Shiraishi (ep 24)
You can contribute information to this page, but first you must login or register
Japanese staff
Japanese cast





Japanese companies

English staff
English cast





English companies

Korean staff
Korean cast

(none)







Korean companies

(none)


Spanish staff
Spanish companies

Executive producer

:

Mariana Candiani

(Candiani Dubbing Studios)

 

Dubbing Production

:

Leticia Candiani 

Spanish cast

(none)


Tagalog staff
Tagalog cast

Dubbing Director

:

Gwen Masilongan 





Tagalog companies

Broadcaster

:

TV5 

Dubbing

:

Lapat-Tinig 

Portuguese staff
Portuguese companies

(none)


Licenced

:

Bandai Entertainment

(Brazil Portuguese)

 

Portuguese cast

(none)


Chinese (Taiwan) staff
Chinese (Taiwan) companies

(none)


Broadcaster

:

Animax Taiwan 

Licensed by

:

Proware Multimedia International Co., Ltd. 

Chinese (Taiwan) cast

(none)

This encyclopedia is collaboratively edited by the users of this site
# A B C D E F G H I J K L M N O P Q R S T U V W X Y Z
Anime anthology