Shōnan Bakusōzoku (OAV)
Unfortunately, due to abuse, anonymous error reports are no longer accepted. You must
login
in order to submit an error report.
Note: you can set your
preferences
to
always
display the
icon while browsing the Encyclopedia.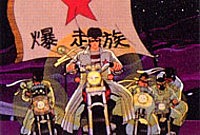 Alternative title:
Bomber Bikers of Shonan
Purple Highway of Angels
湘南爆走族 (Japanese)
Genres:
action
,
comedy
,
slice of life
Themes:
delinquents
,
gangs
Objectionable content:
Significant
Plot Summary:
Meet Eguchi Yoosuke, leader of a high-school Biker gang AND the school's handicrafts club. Which means he divides his time between fistfights and fancy needlework. If you think he's weird, wait until you meet the rest of his gang....
Running time:
55 minutes per episode
Number of episodes:
12
Opening Theme:
#2: "Let's Go Nice Knight" by Shō
#3: "Black Board Jungle" by Hound Dog
#6: "Aaa Shōnan" by Yōsuke Eguchi
Ending Theme:
#1: "Shōnan Bakusōzoku" by Shō and the Moon Dogs
#2: "Aoi Emblem" by Gakuro
#3: "10 Ounce no Bible" by Hironobu Kageyama
#4: "True Heart" by Ammy
#5: "Dreamer and Screamer" by Loudness
#6: "Monologue" by Kiyotaka Sugiyama
#7: "Blue" by Ritsuko Tanaka
#8: "Ude no Naka no Eien" by Mana
#9: "Niji no Kanata e" by Mr.Children
#10: "Sunao ga Ii yo ne" by Junca
#11: "Change" by Kiyomi Kobayashi
#12: "Seed Of Future" by Kiyotaka Sugiyama
Insert song:
"Summer Shine" by Kōji Kaya (ep 4)
You can contribute information to this page, but first you must login or register
This encyclopedia is collaboratively edited by the users of this site
# A B C D E F G H I J K L M N O P Q R S T U V W X Y Z
Anime anthology