Naruto Shippūden (movie)
Lookup sources in this page
To check what sources were provided for the information below, click on the
icon next to the item you want to check and then click on the "source" link that is displayed.
Note: you can set your
preferences
to
always
display the
icon while browsing the Encyclopedia.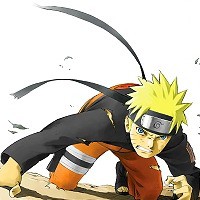 Alternative title:
Naruto Hurricane Chronicles
Naruto Shippuden Film 1 - Un funeste présage (French)
Naruto Shippuden: L'esercito fantasma (Italian)
ناروتو شيبودن (Arabic)
ナルト 疾風伝 (Japanese)
火影忍者 疾風傳 (Chinese (Taiwan))
Themes:
ninja
Objectionable content:
Significant
Plot Summary:
Demons that once almost destroyed the world, are revived by someone. To prevent the world from being destroyed, the demon has to be sealed and the only one who can do it is the shrine maiden Shion from the country of demons, who has two powers; one is sealing demons and the other is predicting the deaths of humans. This time Naruto's mission is to guard Shion, but she predicts Naruto's death. The only way to escape it, is to get away from Shion, which would leave her unguarded, then the demon, whose only goal is to kill Shion will do so, thus meaning the end of the world. Naruto decides to challenge this "prediction of death."
User Ratings:
1030 ratings have been given [details]
Running time:
90 minutes
Premiere date:
2007-08-04 (Japan)
2008-02-01 (Taiwan)
Ending Theme:
"Lie-Lie-Lie" by DJ OZMA
Press Release:
You can contribute information to this page, but first you must login or register
Japanese staff
Japanese cast






Japanese companies

English staff
English cast





English companies

French cast
French staff

(none)






French companies

Broadcaster

:

Game one

(From 16 May 2010)

 

Distributor

:

Kana Video 

Italian staff
Italian cast





Italian companies
German staff
German companies

(none)


Distributor

:

KSM 

German cast

(none)


Chinese (Taiwan) staff
Chinese (Taiwan) companies

(none)


Licensed by

:

Mighty Media Co., Ltd. 

Chinese (Taiwan) cast

(none)

This encyclopedia is collaboratively edited by the users of this site
# A B C D E F G H I J K L M N O P Q R S T U V W X Y Z
Anime anthology