Pom Poko (movie)
Lookup sources in this page
To check what sources were provided for the information below, click on the
icon next to the item you want to check and then click on the "source" link that is displayed.
Note: you can set your
preferences
to
always
display the
icon while browsing the Encyclopedia.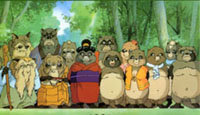 Alternative title:
Heisei Tanuki Gassen Ponpoko (Japanese)
Pom Poko - A tanukik birodalma
Pompoko (French)
Pompoko - Los mapaches (Spanish)
Szopy w natarciu (Polish)
Помпоко: Война тануки (Russian)
平成狸合戦ぽんぽこ (Japanese)
平成狸合戰 (Chinese (Taiwan))
Genres:
adventure
,
comedy
,
supernatural
Themes:
deforestation
,
tanuki
,
yokai
Objectionable content:
None
Plot Summary:
Faced with the destruction of their habitat due to the growth of Tokyo, a group of tanuki try to defend their homes. They decide to use their transforming talents to try to hold back the new development. Two of them, especially skilled at transforming, are sent to Shikoku to enlist the help of three sages. Meanwhile, the rest of them do their best to disrupt the construction site, at first causing accidents, and then actually haunting the site. However, the humans are very persistent, and soon the tanuki are forced to use more and more extreme measures to save their home.
User Ratings:
1087 ratings have been given [details]
Running time:
118 minutes
Vintage:
1994-06-13
Premiere date:
1994-07-16 (Japan)
Ending Theme:
"Itsu demo Dare ka ga (いつでも誰かが; Always, someone is...)" by Shang Shang Typhoon
Official website:
Madman NZ's Official Pom Poko Sales Site
Madman's Official Pom Poko Website
Optimum's Official Pom Poko Sales Site
Comment:
Has a PG rating in the US for "violence, scary images, and thematic elements." In Canada it's rated G.
You can contribute information to this page, but first you must login or register
This encyclopedia is collaboratively edited by the users of this site
# A B C D E F G H I J K L M N O P Q R S T U V W X Y Z
Anime anthology