ef: a tale of memories (TV)
Unfortunately, due to abuse, anonymous error reports are no longer accepted. You must
login
in order to submit an error report.
Note: you can set your
preferences
to
always
display the
icon while browsing the Encyclopedia.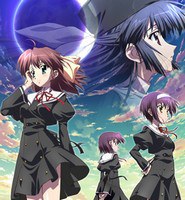 Alternative title:
ef - Un Cuento De Recuerdos (Spanish)
Эф - история воспоминаний (Russian)
에프 - 어 테일 오브 메모리즈 (Korean)
Genres:
drama
,
psychological
,
romance
Themes:
amnesia
,
love triangle
Objectionable content:
Significant
Plot Summary:
On Christmas Eve, Hiro Hirono meets a girl named Miyako Miyamura as she chases a purse snatcher. Hiro later finds out that Miyako also goes to the same school as he does and they start hanging out together. This makes Hiro's childhood friend, Kei Shindō, feel left out, so she tries to compete with Miyako for Hiro's affection, creating a love triangle. Meanwhile, Renji Asō meets a girl named Chihiro Shindō at an abandoned train station. He soon learns that Chihiro suffers from a type of amnesia where her memory lasts for only 13 hours. He also discovers Chihiro's dream of writing a novel, but she has never been able to fulfill that dream due to her condition. Renji then decides to help her fulfill that dream.
User Ratings:
2412 ratings have been given [details]
Running time:
24 minutes per episode
Number of episodes:
12
Vintage:
2007-08-24
2007-10-06 to 2007-12-22
Opening Theme:
#1: "euphoric field" by Tenmon feat. ELISA (eps 3-9,11)
#2: "euphoric field (Japanese ver.)" by Tenmon feat. ELISA (ep 12)
Ending Theme:
#1: "I'm here" by Hiroko Taguchi (eps 1,3,7,10)
#2: "euphoric field" by Tenmon feat. ELISA (ep 2)
#3: "Kizamu Kisetsu" by Junko Okada (eps 4,5,9)
#4: "Sora no Yume" by Natsumi Yanase (eps 6,8,11)
#5: "Yūkyū no Tsubasa 07mix" by Yumiko Nakajima (ep 12)
Official website:
ef - a tale of memories.
(Japanese)
MVM's Official Ef A Tale of Memories Sales Site
Hanabee Entertainment Official Minisite
(Japanese)
You can contribute information to this page, but first you must login or register
Japanese staff
Japanese cast





Japanese companies

English cast
English staff





English companies
This encyclopedia is collaboratively edited by the users of this site
# A B C D E F G H I J K L M N O P Q R S T U V W X Y Z
Anime anthology