In This Corner of the World (manga)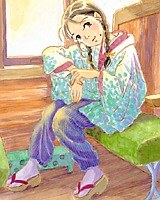 Alternative title:
Dans un recoin de ce monde (French)
En este rincón del mundo (Spanish)
Kono Sekai no Katasumi ni (Japanese)
To All The Corners Of The World
この世界の片隅に (Japanese)
謝謝你,在這世界的一隅找到我 (Chinese (Taiwan))
Plot Summary:
This successor of the long selling Heisei classic "Town of Evening Calm, Country of Cherry Blossoms" is a family drama set in Hiroshima's military city Kure during the war. Protagonist Suzu marries and moves from Hiroshima City to Kure, where she encounters uncertainty in her new family, her new city, and her new world. However, she manages to live each day healthily and happily.
Vintage:
2007-01-23 (serialized in Weekly Manga Action)
You can contribute information to this page, but first you must login or register
Japanese staff
Japanese cast

(none)


Japanese companies
English staff
English companies

(none)


English cast

(none)


French staff
French companies

(none)


French cast

(none)


Spanish staff
Spanish companies

(none)


Spanish cast

(none)


Chinese (Taiwan) staff
Chinese (Taiwan) companies

(none)


Chinese (Taiwan) cast

(none)

This encyclopedia is collaboratively edited by the users of this site
# A B C D E F G H I J K L M N O P Q R S T U V W X Y Z
Manga anthology