Black-winged Love (manga)
Lookup sources in this page
To check what sources were provided for the information below, click on the
icon next to the item you want to check and then click on the "source" link that is displayed.
Note: you can set your
preferences
to
always
display the
icon while browsing the Encyclopedia.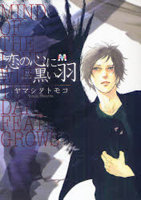 Alternative title:
Koi no Kokoro ni Kuroi Hane (Japanese)
恋の心に黒い羽 (Japanese)
愛的黑羽翼 (Chinese (Taiwan))
Genres:
romance
Plot Summary:
A protective sister tries to stop a group of homophobes from harassing her gay brother. Little does she know that the object of her brother's affections is none other than their leader. Meanwhile, slick young student Kanome finds his crush studying in the library with no one else around and he decides that now is his moment. All he has to do is say the right words to score a little bit of action. Another teenager named Minori anguishes over whether to reveal his lifestyle to his family. He decides no one is ready for that, but his sister jumps the gun and outs him at the dinner table. Will the family be able to accept him or has Minori forever torn his family apart...
A sister attempts to stop a gang of homophobes from being mean to her gay brother, not knowing that he is in love with the leader of said gang.
Number of tankoubon:
1
You can contribute information to this page, but first you must login or register
This encyclopedia is collaboratively edited by the users of this site
# A B C D E F G H I J K L M N O P Q R S T U V W X Y Z
Manga anthology