I''s (manga)
Unfortunately, due to abuse, anonymous error reports are no longer accepted. You must
login
in order to submit an error report.
Note: you can set your
preferences
to
always
display the
icon while browsing the Encyclopedia.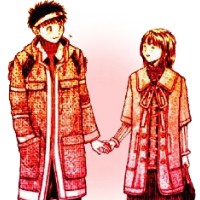 Alternative title:
アイズ (Japanese)
Themes:
ecchi
,
fanservice
,
idols
,
love triangle
,
school
,
school life
Objectionable content:
Significant
Plot Summary:
Sixteen-year-old Seto Ichitaka is a completely normal Japanese boy who has a crush on Yoshizuki Iori, a girl in his class who has become so popular she now has her own fan club at school. Since the day he first saw Iori-chan, Ichitaka has been too shy to even talk to her, but one day he has the perfect opportunity: he's selected randomly to work with her on the two-person Freshman Welcoming Ceremony Committee. Just as things are starting to go well, Ichitaka's childhood "girlfriend," Itsuki, returns from the U.S., to live in his house, at the worst possible moment. Ichitaka spends the rest of high school dealing with his emotions and trying to get together with Iori-chan, even though he never lets go of the feeling that she's uninterested in him, despite her kindness and friendliness towards him. In the end he'll be glad he persevered.
User Ratings:
385 ratings have been given [details]
Number of tankoubon:
15
Number of pages:
185
Volumes:
#01. French Title: IORI
#01. Translation: Iori
#01. 伊織
#02. French Title: ITSUKI
#02. Translation: Itsuki
#02. いつき
#03. French Title: ÉTÉ AMER
#03. Translation: Bitter Summer
#03. 苦い夏
#04. French Title: TROIS OCTOBRE
#04. Translation: October 3rd
#04. 10月3日
#05. French Title: PASSÉ BRÛLÉ
#05. Translation: Past in Flames
#05. 焦げた過去
#06. French Title: BYE BYE
#06. Translation: Bye Bye
#06. BYE BYE
#07. French Title: COURAGE
#07. Translation: You Can Do It
#07. スパンク
#08. French Title: UNE FORMULE MAGIQUE
#08. Translation: A Magic Formula
#08. おまじない
#09. French Title: LA NUIT DE NOËL
#09. Translation: Christmas Eve
#09. イブの夜
#10. French Title: À TOI…
#10. Translation: To You…
#10. キミに…
#11. French Title: FIN D'ÉTUDES AU LYCÉE
#11. Translation: High School Graduation
#11. 卒業
#12. French Title: CHAMBRE 305
#12. Translation: Room 305
#12. 302号室
#13. French Title: VIVRE SEUL
#13. Translation: Living Alone
#13. ひとり暮らし
#14. French Title: AÏKO
#14. Translation: Aiko
#14. 藍子
#15. French Title: SAISIR SON RÊVE
#15. Translation: Achieving Your Dream
#15. 夢をつかむ
Vintage:
1997 to 2000
1999 to 2001 (Spain - Planeta DeAgostini 30 volumes)
2000 (France)
2001 (Argentina)
2001 (Italy)
2003 (Spain - Reedition - Planeta DeAgostini 15 volumes)
2003-04-11 to 2004-05-21 (México - Grupo Editorial Vid 30 volumes)
2005-04-05 to 2007-09-04 (North America)
Official website:
I''s @ s-manga.net
(Japanese)
You can contribute information to this page, but first you must login or register
This encyclopedia is collaboratively edited by the users of this site
# A B C D E F G H I J K L M N O P Q R S T U V W X Y Z
Manga anthology