Angel Sanctuary (manga)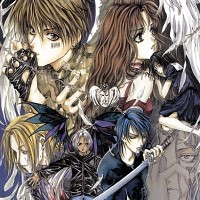 Alternative title:
Tenshi Kinryouku (Japanese)
Обитель ангелов (Russian)
天使禁猟区 (Japanese)
天使禁獵區 (Chinese (Taiwan))
Objectionable content:
Intense
Plot Summary:
Setsuna has a bit of a problem that most teenagers don't have: He's in love with his sister. However, things only get worse when he and his sister begin to be attacked by things calling themselves Angels, who claim to be after him because apparently he is a reincarnation of one of the most powerful angels ever. Together, he and his sister get pulled into a war between heaven and hell.
User Ratings:
446 ratings have been given [details]
Volumes:
#01. "Electric Angel"
#02. "The Crying Game"
#03. "Presumed Guilty"
#04. "Goodbye Mother"
#05. "The Black Angel"
#06. "The Cruel Bond"
#07. "Angel of Furious Flame"
#08. "Chance Meeting"
#10. "Monarchie in Fernale"
#11. "Sacrifice"
#12. "Night of the Moonlilies"
#13. "Everlasting Mid-Air Passage"
#14. "Collapse of Heaven and Hell"
#15. "Holy Inquisition"
#16. "White World"
#17. "Conception Notice"
#18. "Cremation"
#19. "Eden"
#20. "An Ancient Song of Praise for You"
Vintage:
1994 to 2000 (Serialization)
2001-04 to 2004-06 (Germany)
2004-04-01 to 2007-06-12 (North America)
2006-04-03 to 2007-11-08 (México)
You can contribute information to this page, but first you must login or register
This encyclopedia is collaboratively edited by the users of this site
# A B C D E F G H I J K L M N O P Q R S T U V W X Y Z
Manga anthology