Blue Heaven (manga)
Lookup sources in this page
To check what sources were provided for the information below, click on the
icon next to the item you want to check and then click on the "source" link that is displayed.
Note: you can set your
preferences
to
always
display the
icon while browsing the Encyclopedia.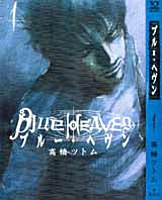 Alternative title:
ブルー ヘヴン (Japanese)
Genres:
action
,
drama
,
psychological
Themes:
psychopath
,
serial killer
,
survival
Objectionable content:
Intense
Plot Summary:
The world's largest luxury ship 'Blue Heaven' saves a wrecked ship out at sea. At the captain's command, the ship is searched, and 2 people are rescued. Questions start to arise as one man is horribly hurt and needs immediate care while the other is in perfect health. He soon blends into the people aboard and begins to randomly kill passengers and staff alike. Chaos arises as the captain tries to figure out the motive of this madman.
User Ratings:
51 ratings have been given [details]

 Masterpiece: 8 votes

(Eng:5, sub:1, raw:1, raw:1)

 Excellent: 8 votes

(sub:5, Eng:3)

 Very good: 10 votes

(Eng:5, sub:2, dub:2, ?:1)

 Good: 12 votes (Eng:6, sub:5, others:1

1 French

)

 Decent: 9 votes

(Eng:8, sub:1)

 So-so: 3 votes

(Eng:2, ?:1)

Seen in part or in whole by 91 users, rank: #867 (of 4705)
Median rating: Good
Arithmetic mean: 7.588 (Very good−), std. dev.: 1.6707, rank: #1773 (of 4784)
Weighted mean: 7.428 (Good+), rank: #1951 (of 4784)

(seen all: 7.48 / seen some: 6.49 / won't finish: 7.00)


Bayesian estimate: 7.454 (Good+), rank: #1355 (of 2878)

Number of tankoubon:
3
Number of pages:
214
You can contribute information to this page, but first you must login or register
This encyclopedia is collaboratively edited by the users of this site
# A B C D E F G H I J K L M N O P Q R S T U V W X Y Z
Manga anthology