Mobile Suit Gundam Seed Astray R (manga)
Lookup sources in this page
To check what sources were provided for the information below, click on the
icon next to the item you want to check and then click on the "source" link that is displayed.
Note: you can set your
preferences
to
always
display the
icon while browsing the Encyclopedia.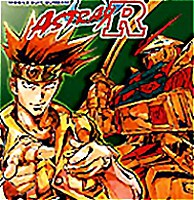 Alternative title:
Gundam Seed Astray R
Kidō Senshi Gundam Seed Astray R (Japanese)
機動戦士ガンダムSEED ASTRAY R (Japanese)
Genres:
action
,
adventure
,
science fiction
Themes:
mecha
Objectionable content:
Significant
Plot Summary:
A Junk Tech of the Junk Guild, Lowe Gear discovers two of Orb's prototype Astray mobile suits hidden inside the remains of the recently destroyed colony of Heliopolis. Taking the red mobile suit "Red Frame" for himself, Lowe soon realizes that many people and organizations are pursuing Red Frame for their own reasons. Thanks to the information leaked by a certain informant, Lowe meets new enemies and familiar friends along the way as he tries to make a living in the worn-torn world, unknowingly setting events in motion that will determine the fate of the war.
User Ratings:
30 ratings have been given [details]
Number of tankoubon:
4
Vintage:
2002-10 to 2004-05
2005-02-08 to 2005-11-08 (North America)
Official website:
Official Gundam Seed Astray Site
Comment:
Before it ended, this series ran concurrently with the
Gundam SEED Astray
manga series and its sequel,
X Astray
. However
Astray R
focuses on the Red-Framed Astray and its pilot Lowe Gear, and its art is by a different artist, Yasunari Toda. Certain events are depicted in both the
Astray R
and the
Astray
manga but most of the story in the two manga are meant to complement each other. In Japan there is also a photonovel series,
Astray B
, which focuses on the story of the Blue-Framed Astray and its pilot, Gai Murakumo.
You can contribute information to this page, but first you must login or register
Japanese staff
Japanese cast

(none)


Japanese companies

Production

:

Sunrise 

Publisher

:

Kadokawa Shoten 

English staff
English cast

(none)


English companies

Licensed by

:

Tokyopop 
This encyclopedia is collaboratively edited by the users of this site
# A B C D E F G H I J K L M N O P Q R S T U V W X Y Z
Manga anthology