F. COMPO (manga)
Unfortunately, due to abuse, anonymous error reports are no longer accepted. You must
login
in order to submit an error report.
Note: you can set your
preferences
to
always
display the
icon while browsing the Encyclopedia.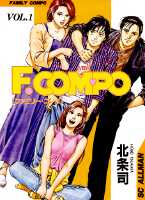 Alternative title:
Family Compo
ファミリー・コンポ (Japanese)
變奏家族 (Chinese (Taiwan))
Genres:
comedy
,
romance
,
slice of life
Themes:
tranvestites crossdressing
Plot Summary:
Masahiko Yanagiba lost both parents and, following his mother's will, moved to his maternal uncle's family, the Wakanaes. Although Wakanaes' hospitality was heartwarming, he soon found out why his other relatives shun away from the Wakanaes: his "uncle" is a woman while his "aunt" is just the opposite. Turns out the couple took the appearance of the opposite gender, and now Masahiko has no idea whether his cute cousin, Shion Wakanae, is either a boy or a girl.
User Ratings:
28 ratings have been given [details]
Number of tankoubon:
14
Number of pages:
207
Volumes:
#01. 「家族」初体験 (First "Family" Experience)
#02. 家族旅行!! (Family Trip!!)
#03. 空の帰郷 (Sora's Homecoming)
#04. 回り道 (Roundabout Way)
#05. 紫苑の初恋 (Shion's First Love)
#06. 憧れのウエディングドレス (Yearned Wedding Dress)
#07. 二人のマサヒコ (Masahiko of the Two)
#08. 若苗家の新居候 (New Freeloader of Wakanae Family)
#09. 二人のバースデー (Birthday of the Two)
#10. 紫苑誕生 (Birth of Shion)
#11. 紫苑の入試 (Shion's Entrance Exam)
#12. 男か女か? (Man or Woman?)
#13. 失楽園(ロスト・パラダイス) (Lost Paradise)
#14. 家族(ファミリー) (Family)
Vintage:
1996 to 2000 (Serialized in "Manga Allman" by Shueisha)
You can contribute information to this page, but first you must login or register
This encyclopedia is collaboratively edited by the users of this site
# A B C D E F G H I J K L M N O P Q R S T U V W X Y Z
Manga anthology