Iihito (manga)
Unfortunately, due to abuse, anonymous error reports are no longer accepted. You must
login
in order to submit an error report.
Note: you can set your
preferences
to
always
display the
icon while browsing the Encyclopedia.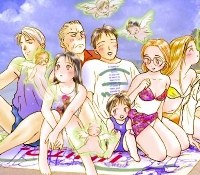 Alternative title:
A Good Man
For New Natural Life
Good Person
いいひと。 (Japanese)
新新好男人 (Chinese (Taiwan))
Genres:
drama
,
romance
,
slice of life
Themes:
sports
Plot Summary:
Yūji Kitano, a college athlete newly graduated from his university, gets a job in a big sports equipment company. He soon finds out that he is surrounded by numerous obstacles: his involvement in corporation politics of high level executives; lack of trust from capable female coworkers; his rotation, promotion, and demotion; and last but not least, a tough HR manager who is also his landlord. However, no matter how difficult the situation is, he is always optimistic and diligent, and his positive attitude not only motivates people around him but also touches the hearts of his female colleagues.
User Ratings:
4 ratings have been given [details]
Number of tankoubon:
26
Number of pages:
216
Volumes:
#01. Start!
#02. Heart Vision
#03. 僕は大丈夫 (I'm All Right)
#04. 心のままに (Heart's Way)
#05. Lady Blue
#06. Don't Leave Me
#07. チャンス到来 (Chance Has Come)
#08. 二人の夏 (Summer of the Two)
#09. 卒業 (Graduation)
#10. You're the One
#11. Brand-New Sunshine
#12. ねがい (Request)
#13. 翼をください (The Wing)
#14. Harvest Rain
#15. 三人 (Three People)
#16. 思い出にかわるまで (Till It Changes the Memory)
#17. 恋 (Love)
#18. If You Gimme Smile
#19. Walk This Way
#20. 幸せであるように (The Way of Happiness)
#21. Home Sweet Home
#22. たとえあなたが去っていっても (You Keep Going Away)
#23. メリーゴーランド (Merry-go-round)
#24. 君が思い出になる前に (Before You Become the Memory)
#25. Friends
#26. きみのうたはぼくのうた。 (Your Song Is My Song)
Official website:
いいひと。 @ SHIN Presents!
(Japanese)
You can contribute information to this page, but first you must login or register
Japanese staff
Japanese cast

Story & Art

:

Shin Takahashi 

(none)


Japanese companies

Publisher

:

Shogakukan 

Chinese (Taiwan) staff
Chinese (Taiwan) companies

(none)


Licensed by

:

Sharp Point Press 

Chinese (Taiwan) cast

(none)

This encyclopedia is collaboratively edited by the users of this site
# A B C D E F G H I J K L M N O P Q R S T U V W X Y Z
Manga anthology