Zoku Manga Mitaina Koi Shitai!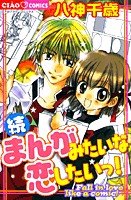 Alternative title:
Fall in Love Like a Comic! Continued
続・まんがみたいな恋したいっ! (Japanese)
繼續漫畫戀情! (Chinese (Taiwan))
Objectionable content:
Significant
Plot Summary:
Rena and Tomoya go on a trip together. Rena thinks they're ready to go to second base, but Tomoya admits he isn't and shows her that she isn't, either.
User Ratings:
32 ratings have been given [details]

 Masterpiece: 1 vote

(Eng:1)

 Excellent: 5 votes

(Eng:4, sub:1)

 Very good: 6 votes

(sub:4, Eng:2)

 Good: 7 votes

(dub:3, Eng:3, sub:1)

 Not really good: 3 votes

(Eng:3)

 Awful: 2 votes

(Eng:1, sub:1)

Seen in part or in whole by 93 users, rank: #854 (of 4933)
Median rating: Good
Arithmetic mean: 6.312 (Decent+), std. dev.: 2.4166, rank: #3802 (of 5074)
Weighted mean: 6.133 (Decent), rank: #3949 (of 5074)

(seen all: 6.13)


Bayesian estimate: 6.315 (Decent+), rank: #2790 (of 2973)

Vintage:
2004-10-01
2008-01-01 (North America)
Comment:
The US licensee Viz Media treats it as the second volume of Fall in love like a comic!
You can contribute information to this page, but first you must login or register
This encyclopedia is collaboratively edited by the users of this site
# A B C D E F G H I J K L M N O P Q R S T U V W X Y Z
Manga anthology