Heavenly Body (manga)
Unfortunately, due to abuse, anonymous error reports are no longer accepted. You must
login
in order to submit an error report.
Note: you can set your
preferences
to
always
display the
icon while browsing the Encyclopedia.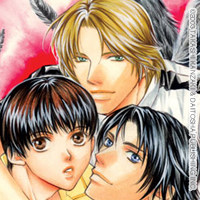 Alternative title:
HH Remix
HHリミックス (Japanese)
Genres:
romance
Themes:
Yaoi
Plot Summary:
Just who does the cute Hazumi belong to... Roomated with two hot foreigners, Luke and Ray, Hazumi finds himself in the middle of a fight over who gets his body. Hazumi discovers that these foreigners come from lands far more exotic than he could have ever imagined. Luke is an angel from Heaven and Ray is a demon from Hell. Is this fight purely a sexual rivalry, os id there a deeper, secret meaning behind this relentlessly erotic battle...
Number of tankoubon:
1
Official website:
Deux Press
You can contribute information to this page, but first you must login or register
Japanese staff
Japanese cast

Story & Art

:

Takashi Kanzaki 

(none)


Japanese companies

Publisher

:

Daitosha 

English staff
English cast

(none)


English companies
This encyclopedia is collaboratively edited by the users of this site
# A B C D E F G H I J K L M N O P Q R S T U V W X Y Z
Manga anthology