Yu Yu Hakusho: Ghost Files - Third Strike [+ Keychain] (DVD 3 of 8)
---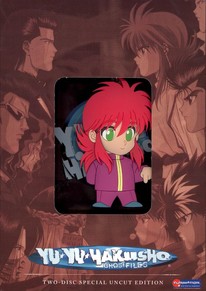 Title:
Yu Yu Hakusho: Ghost Files - Third Strike [+ Keychain]
Volume:
DVD 3 / 8
Running time:
350
Distributor:
FUNimation Entertainment
Release date: 2006-12-19
Suggested retail price: $34.98
Age rating: 13+

SKU: FN-06007
UPC: 704400060076 704400060076

Description:
Kuwabara continues his desperate struggle against the child demon, whose twisting serpent-like yo-yos may prove too much to handle. As the second match arrives, Kurama steps forward. But his opponent holds a secret that threatens the person Kurama hold most dear! Can Kurama defeat Roto before the unthinkable happens?

This edition comes with a Kurama Keychain.

Contains episodes 29-42!

Spoken Languages: English, Japanese, English subtitles.
(added on 2007-10-19, modified on 2007-10-19)
How much do Japanese fans care about what Western fans love? Justin gets into it.
― Will asks: Do Japanese citizens pay much attention to the trends, adaptations and popularity of their media exports or is this just a particular case where they are out of the loop? Do they talk about how anime, manga, tokusatsu, etc do overseas at all? Japanese consumers generally don't care very much what goes on i...
Ghost in the Shell was adapted into a film radically different from the source material once before - so what makes that adaptation work, and which version of the character is the 'real' one?
― If you look at the credits that have been released for the upcoming live-action version of Ghost in the Shell, Mamoru Oshii's name doesn't appear anywhere on it. The clue only that this film is an adaptation ...
The isekai genre goes from swords and sorcery to pencils and paper pushing in this story about an economics student summoned to a fantasy world who becomes a very different kind of hero.
― Have you ever wondered why more of those heroes and heroines summoned to other worlds don't put their knowledge of modern life to work? Sure, in some stories the characters don't have that luxury thanks to convenie...
The first two Zero escape games finally come to PC, with a new ending for 999 - 9 Hours, 9 Persons, 9 Doors. Dustin takes these new ports for a spin.
― The Zero Escape games saw an inauspicious start in 2009 with Nine Hours, Nine Persons, Nine Doors—otherwise known as 999—a mystery slash sci-fi visual novel for the original DS. Coming after a wave of successful adventure game-meets-visual novel hybri...
Things at the office go one shenanigan too far for Luna when Perry offers his expertise where it might not be wanted...
―
Magia the Ninth makes a valiant effort to combine classical music and exorcist action, but it stumbles more than succeeds in these poorly paced volumes. Rebecca Silverman explains what went wrong.
― They say that music soothes the savage beast, but rarely is that taken quite so literally as in Ichiya Sazanami's two-volume manga series Magia the Ninth. The premise of the story will be vaguely familiar...
Justin answers a bunch of short questions on the Gintama dub, anime movie distribution, Japanese greetings and much more!
― A few years ago, Answerman changed up its format a little bit, and we started giving each question its own column several times a week, rather than answering a bunch of questions once a week. The new format's been great -- old questions are easier to find, and I can give new on...
James finds himself enchanted by this zany comedy from KyoAni that flew under the radar, and Paul breaks down all this week's new anime releases!
― I'm off on vacation visiting my extended family this week, so my brain is entirely too frazzled to come up with a clever or interesting introduction. Instead, I'll just jump right into it. Welcome to Shelf Life. Jump to this week's review: Amagi Brillian...
Things heat up both at the Festa and behind the scenes in the third quarter of The Asterisk War. Rebecca Silverman dives back into this magic high school harem.
― Occasionally, I have to wonder if anyone in this series know what the word "fair" means? Granted, that's likely a purposeful question, since the series follows the grand old tradition of dystopian young adult fiction by pitting teens agains...
What if you made a list of the 100 Best Anime Movies of All Time and DIDN'T include Miyazaki, Satoshi Kon or any of the expected favorites? Mike Toole did it - here's part I.
― When I see articles like Paste's Top 100 Anime Movies of All Time, I grit my teeth a little, because I know what to expect, and it's hard not to get a little frustrated. List articles, so-called "listicles," are the junk food ...
Anonymous Noise is a solid reminder of why shoujo romance can be such angsty good fun. Rebecca Silverman shares what to expect before its anime adaptation comes out this spring!
― Get out your love calculators, everyone, because Anonymous Noise looks like it will have the most complicated love geometry since Marmalade Boy. The basic premise of the story sets heroine Nino Arisugawa up with two potenti...