XXXHOLiC (DVD 6)
---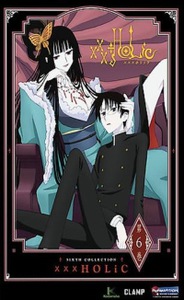 Title:
XXXHOLiC
Volume:
DVD 6
Running time:
100
Distributor:
FUNimation Entertainment
Release date: 2008-10-21
Suggested retail price: $29.98
Age rating: 13+

SKU: FN-04546
UPC: 704400045462 704400045462
ISBN-10: 1421014254 1421014254
ISBN-13: 9781421014258 9781421014258

Description:
People are capable of wishing for anything they think that they want. It could be happiness, or unhappiness...

The parade of those blinded by desire trudges ever onward, and Watanuki without fail leads the procession of the petitioning. The world is getting smaller and faces from other realms more common every day. Lessons come hard and fast, with Yuko lounging blithely among the chaos. The litany of her demands is the same as it ever was, but how to play the game when the rules are set by one so arbitrary? Even so, there is always a price to pay...

Contains episodes 21-24.

Spoken Languages: English, Japanese, English subtitles.
(added on 2008-08-02, modified on 2008-08-02)
The Summer 2015 Anime Preview Guide has begun! Check back daily for fresh impressions of the season's newest shows.
Available Now: Rokka: Braves of the Six Flowers - SHIMONETA - Charlotte - Aoharu x Machinegun - Classroom Crisis - GATE - Rampo Kitan: Game of Laplace
― Welcome to Anime News Network's Summer 2015 Preview Guide! Here's how it goes: our team of critics write up their impressions instant...
We're live at Anime Expo 2015 all weekend, but in case you're having trouble keeping up with the flurry of news, here's a roundup of everything you may have missed in the first two days of the con!
― We're live at Anime Expo 2015 all weekend, but in case you're having trouble keeping up with the flurry of news, here's a roundup of everything you may have missed yesterday! We'll have a cosplay galler...
Some people just don't take defeat very well. These seven folks could use a lesson in being a good sport.
― Losing gracefully and admitting defeat is a skill and some characters, especially villains, aren't particularly good at it. It's never the losers fault that they didn't succeed. Blame is either passed around to the nearest person, or worse, the loser seeks revenge against whomever bested them....
Kimihito is already living with a harpy, a mermaid, a spider woman, a centaur, a slime girl, and a lamia. Could he possibly have room for a dullahan too? And what could possibly go wrong with a grim reaper in the house...?
― If there's one thing that Okayado's Monster Musume is, it's unashamed. There are bare breasts (and nipples) in proliferation, orgasms induced by a variety of thoughts and things,...
Why does anime delight in making its young heroes parent-less? Plus, how long does an episode take to animate? Does Funimation have DVD rights for the shows they're simul-dubbing? And what was ADV Kidz?
― Mitsuki asks: I was having a discussion (and by "discussion" I meant Tumblr post) about truly godawful cartoons, and someone brought up "Super Duper Sumos", and posted an image. Thing is, I noticed...
The American side of the freshly-announced CG animated Vampire Hunter D TV series spills the details on just what exactly it is they're trying to make.
― Vampire Hunter D: Resurrection was announced this past Tuesday ahead of its official unveiling at Anime Expo on Thursday, July 2nd. The show is a collaboration between the US-based Unified Pictures, the Japan-based Digital Frontier (responsible for ...
Take it as a paean to joshi puroresu and Wanna Be the Strongest in the World fares pretty well. Take it any other way and, well... you'll see.
― Female pro wrestling in Japan (referred to as joshi puroresu) has existed to some degree since 1948, most typically as an independent promotion from male pro wrestling. Like pro wrestling in the States, Japanese pro wrestling is typically scripted, although ...
In the final installment of House of 1000 Manga, Jason both looks back at some of his favorites from the last 5 years and looks forward at what's to come!
― House of 1000 Manga: The End If this column was a horror movie, like the one it's named after (I've actually never even seen it), this is the part when the House of 1000 Manga burns down and the traumatized survivors tell the sheriff about how t...
With Magnoshutatt on the brink of war, can Aladdin convince its leader that non-magicians are human too?
― There is a style of literature known as "Naturalism," which, in its simplest form, expresses the belief that it is impossible to overcome or rise above the situation you are born into. It isn't always seen in anime, and it certainly wasn't part of the first season of Magi, The Labyrinth of Magic...
A new Ghost in the Shell movie has hit theaters in Japan, which means it's time to look back at the entire series and finally decide: which version of this cyberpunk classic is the all-time best?
― Firstly: I'm not here to argue whether Ghost in the Shell is the one of the best anime of all time. We already know it is. That first film? It was the best. The TV series? Also the best. And this new film ...
Have some imports this week with Tatsunoko tributes, Rhythm Heaven, and an RPG developer's final days! And there's Fire Emblem debate, Ace Attorney history, and Todd's revelation of his favorite King of Fighters character!
― The Fire Emblem series has a few controversies, but you'll have to dig to find them. Those games with the more disturbing plot twists, such as Fire Emblem: Genealogy of the Holy...
Oda Nobunaga, Jack the Ripper, Isaac Newtwon, and other historical greats pass on their talents to E-Gene holders to fight aliens. Wait, where are you going?
― There is something to be said for owning your concept. Nobunagun is essentially about giving descendants of mankind's greats access to their progenitors' abilities so that they can fight off aliens who have an uncanny knack for evolving, and h...