Sensual Phrase (GN 5)
---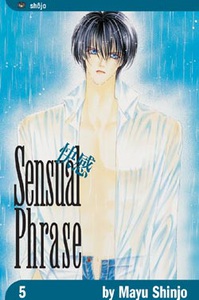 Title:
Sensual Phrase
Volume:
GN 5
Pages:
192
Distributor:
Viz Media
Release date: 2004-11-01
Suggested retail price: $9.95
Age rating: 17+

SKU: CTSP-05
ISBN-10: 1591165601 1591165601
ISBN-13: 9781591165606 9781591165606

Description:
Things are really heating up between Lucifer and Jesus. Not only are the two supergroups battling each other to capture the top spot on the music charts... each band's singer is courting the affections of a single girl!

Brainwashed and confused, Aine considers a brief dalliance with Tomoyuki, the sexy frontman for Jesus. But when Sakuya, her true love, suffers a near-fatal accident, she's thrown into a tizzy. Torn between two lovers, Aine has inadvertently attracted the attention of Japan's gossip magazines. Now under the intense scrutiny of the media, she must decide who she loves the most: Jesus or Lucifer!
(added on 2008-10-23, modified on 2008-10-23)
The second season of this charming fairytale romance finally comes to Blu-Ray! Theron Martin details what makes this particular shojo adaptation so special.
― The second season of Snow White with the Red Hair aired during the Winter 2016 season, covering episodes 13-24. Given the firm declaration of commitment from Zen near the end of the previous season and Shirayuki's generally secure position as a...
Mike picks over the bones of the Hollywood Ghost in the Shell, catalogs the best adaptations so far, and wonders where live-action anime might go after this.
― This year's convention season is rockin' and rollin'. This week, I'm on show number three of 2017, enjoying the sights and sounds of Anime North up in Toronto. I come up to Canada for this show, and it's always an interesting time. I admire Ca...
Food Wars is still going strong as the Polaris Dorm gets ready to take on Azami Nakiri's corrupt new administration. Rebecca Silverman has the details.
― There is rarely a dull moment in Yuto Tsukuda and Shun Saeki's Food Wars! Shokugeki no Soma manga, and while there's a small breather between storylines of this volume, the action is as intense as ever despite the climbing volume numbers. This eight...
Being surrounded by sexy love interests might seem like paradise to some, but one fan's heaven is another fan's hell. Here are seven harems with no good apples to choose from!
― Harem anime is a well-established romance sub-genre, and while most incarnations these days put our hero into a magical world outside of his own, romance options have spanned trains, transforming soda cans, and potential lit...
UQ Holder's ninth volume makes the most of its prolonged training arc material. Nick Creamer weighs the pros and cons of Ken Akamatsu's latest series.
― UQ Holder has always been an inherently strange shounen property. With its focus on a team of heroes who are all gifted with some form of immortality, the manga has at time had trouble offering compelling opponents for its protagonists. And main char...
Could Netflix's influence solve the many production and salary woes plaguing the anime industry? Justin considers the angles.
― Earl asks: The trailer for the new Castlevania anime came out today and my coworkers and I were remarking on the animation quality. It's an American production (despite what I thought initially), but it got me thinking... Would Netflix-style contracts/production be a way ou...
From fearsome warriors to gluttonous goofballs, Attack on Titan's cast is filled with a variety of colorful female characters. Rose Bridges explains what makes its cast of ladies so unique.
― Spoiler Warning: This article contains spoilers for the Attack on Titan anime up through episode 31, and also vaguely alludes to events from the Attack on Titan light novel "Lost Girls." Since the first season's...
Zac, Jacob and special guest Gabriella Ekens stitch their brains together for a deep dive on the entirety of PSYCHO-PASS - both seasons (yes, both seasons) and the film.
― ANNCast Episode 297 - Psycho-Pass Zac, Jacob and special guest Gabriella Ekens stitch their brains together for a deep dive on the entirety of PSYCHO-PASS - both seasons (yes, both seasons) and the film! You can listen to the show...
Miss Hokusai demonstrates the power of articulating life as it is lived, presenting a rich portrait of both its historical moment and its charming heroine.
― The great painter Hokusai is one of the most famous and internationally renowned artists in Japanese history. Responsible for works as recognized as The Great Wave off Kanigawa (itself an element of the vastly influential 36 Views of Mount Fuji)...
The world-famous composer behind the music of Silent Hill discusses his long career making scary games scarier, along with his latest, the score for Let It Die.
― Japanese composer Akira Yamaoka, renowned for his work on Silent Hill's soundtrack, attended this year's Granada FicZone. He's also credited for many other video game scores such as Shadows of the Damned, Lollipop Chainsaw, and Killer Is De...
An ancient Fire Emblem game from the depths of the Famicom library gets resurrected on the 3DS - but is it worth your time? PLUS: Mario's got a gun, Netflix for games and much more!
― If you've followed this column for a while, you've probably noticed that I've got a taste for a lot of the games Nintendo puts out. Yet I've never delved deep into Fire Emblem. I played the first Western release when it...