Naruto (GN 37)
---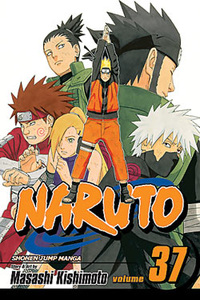 Title:
Naruto
Volume:
GN 37
Pages:
192
Distributor:
Viz Media
Release date: 2009-02-03
Suggested retail price: $7.95
Age rating: 13+

ISBN-10: 1421521733 1421521733
ISBN-13: 9781421521732 9781421521732

Description:
Shikamaru's team is out for revenge against their mentor's murderers. Tsunade tries to stop them, but Kakashi wants to help! As the divide among the ninja grows, the mysterious Akatsuki organization continues their brutal attack on the tailed spirits, the Biju, and the young ninja who host them, including Naruto! He's older and stronger, but has Naruto trained enough?!

Story and art by Masashi Kishimoto.
(added on 2008-11-09, modified on 2008-11-09)
The penultimate volume of Nisekoi starts dabbling in drama amdist all the comedy.
― The fourth Blu-Ray release for Nisekoi covers episodes 15-20, which constitutes the final quarter of the first series. Unlike the ending of the second season, it actually makes one key progression in the relationship dynamics – i.e., getting Chitoge to admit that she may actually be genuinely in love with Raku rather ...
Lucifer and the Biscuit Hammer continues to pick up speed, challenging its characters and upgrading its execution in its triumphant third collection.
― From the first collection to the second, Lucifer and the Biscuit Hammer ramped up significantly in storytelling ambition and execution. A narrow story unfolded into an ambitious ensemble one, and compelling themes regarding family, adulthood, and the ...
The Summer 2015 Anime Preview Guide has begun! Check back daily for fresh impressions of the season's newest shows.
Available Now: Durarara!! x2 The Second Arc - Gatchaman Crowds insight - Gangsta. - Ushio & Tora - Rokka: Braves of the Six Flowers - SHIMONETA - Charlotte - Aoharu x Machinegun - and much more!
― Welcome to Anime News Network's Summer 2015 Preview Guide! Here's how it goes: our team o...
If you missed anything from this year's Anime Expo, here's a roundup of everything you may have missed from the con!
― Days Three and Four: July 4-5 Production I.G Makes Show for Fox's Animation Domination High-Def Viz Adds Matsuri Hino's Shuriken & Pleats, Bisco Hatori's Behind the Scenes Manga Sunrise Announces New Gundam Series Crunchyroll to Stream Monster Musume, Million Doll This Summer; The P...
Some people just don't take defeat very well. These seven folks could use a lesson in being a good sport.
― Losing gracefully and admitting defeat is a skill and some characters, especially villains, aren't particularly good at it. It's never the losers fault that they didn't succeed. Blame is either passed around to the nearest person, or worse, the loser seeks revenge against whomever bested them....
Kimihito is already living with a harpy, a mermaid, a spider woman, a centaur, a slime girl, and a lamia. Could he possibly have room for a dullahan too? And what could possibly go wrong with a grim reaper in the house...?
― If there's one thing that Okayado's Monster Musume is, it's unashamed. There are bare breasts (and nipples) in proliferation, orgasms induced by a variety of thoughts and things,...
Why does anime delight in making its young heroes parent-less? Plus, how long does an episode take to animate? Does Funimation have DVD rights for the shows they're simul-dubbing? And what was ADV Kidz?
― Mitsuki asks: I was having a discussion (and by "discussion" I meant Tumblr post) about truly godawful cartoons, and someone brought up "Super Duper Sumos", and posted an image. Thing is, I noticed...
The American side of the freshly-announced CG animated Vampire Hunter D TV series spills the details on just what exactly it is they're trying to make.
― Vampire Hunter D: Resurrection was announced this past Tuesday ahead of its official unveiling at Anime Expo on Thursday, July 2nd. The show is a collaboration between the US-based Unified Pictures, the Japan-based Digital Frontier (responsible for ...
Take it as a paean to joshi puroresu and Wanna Be the Strongest in the World fares pretty well. Take it any other way and, well... you'll see.
― Female pro wrestling in Japan (referred to as joshi puroresu) has existed to some degree since 1948, most typically as an independent promotion from male pro wrestling. Like pro wrestling in the States, Japanese pro wrestling is typically scripted, although ...