Orange Planet (GN 1)
---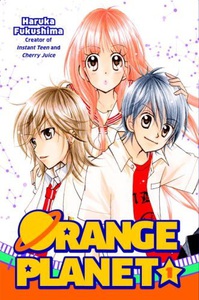 Title:
Orange Planet
Volume:
GN 1
Pages:
208
Distributor:
Del Rey
Release date: 2009-04-28
Suggested retail price: $10.95
Age rating: 13+

ISBN-10: 034551338X 034551338X
ISBN-13: 9780345513380 9780345513380

Description:
It's hard enough being in love when you're 13. It's even harder when you're part of a secret love triangle! Rui's in love for the first time ever - with her dreamy classmate, Kaoru. But Rui's the target of someone else's major secret crush, her own best friend, the adorable boy next door. Then, to make matters worse, her hot teaching assistant moves in with her!

Story and art by Haruka Fukushima.
(added on 2008-11-16, modified on 2008-11-16)
Mike devours the Sound! Euphonium and Legend of the Galactic Heroes novels and then can't help but compare them to their anime adaptations? Which is better: the book or the movie?
― You can tell what a big anime nerd I am because of all of the books I've been reading lately. Just in the past couple of months, I've killed off the first of Hayao Miyazaki's essential two-part essay collection, Starting ...
Shy Yamada falls for school track star Kase-san in the first volume of this sugary-sweet yuri series. Rebecca Silverman has the details.
― In the increasingly diverse world of English-language yuri, Hiromi Takashima's Kase-san and Morning Glories stands out as particularly adorable. While it shares some themes with Milk Morinaga's Secret of the Princess in terms of wondering if having a lesbian relat...
Sometimes your first kiss is magical, but if you're an anime character, this adolescent milestone can get too weird for comfort. Here are six first kisses that the smoochers might want to forget.
― A first kiss can be a special, a treasured moment shared between two romantic partners. Or it can be haphazardly stolen by some jerk trying to one-up his friend or caused by a pratfall down a flight of st...
My Monster Secret kicks into high gear with a pair of wild rambling adventures in its fifth volume. Nick Creamer digs into the action.
― The last two volumes of My Monster Secret have seen the manga drifting through a variety of chapter-length adventures, before settling into the more long-form and ultimately satisfying trip to Shiragami's parents' house. In light of the events of volume five, it see...
Zac and special guest Dawn from the Anime Nostalgia Podcast reveal their undying love for Rumiko Takahashi, titan of manga, creator of timeless classics like Urusei Yatsura, Ranma 1/2 and more.
― ANNCast Episode 300 - Rumiko Talkahashi Zac and special guest Dawn from the Anime Nostalgia Podcast reveal their undying love for Rumiko Takahashi, titan of manga, creator of timeless classics like Urusei Y...
We're not used to smash hit anime coming from China, but they have a bonafide success in The King's Avatar - here's everything you need to know about the phenomenon.
― It seems fair to say that every country has its own basic style or flavor of animation. When we think of Asian animated works, most of us go immediately to anime, the Japanese variant, and it certainly is among the most prevalent and a...
Ten years before Princess Elizabeth set out to find Meliodas and the other Sins, her older sister Margaret and Gilthunder struggle to keep a terrible secret in this prequel to The Seven Deadly Sins. Rebecca Silverman investigates.
― If you're a casual fan of Nakaba Suzuki's manga The Seven Deadly Sins or its anime adaptation, you should be aware that this novel is intended to be read either after the...
Attack on Titan races up the charts as the Spring anime season closes out! How did your favorite anime fare in our weekly user rankings?
― Our team of reviewers are following 27 anime series of the Spring 2017 season and readers are rating each episode as the reviews go up. So let's have a look at what ANN readers consider the best (and worst) of the season. Keep in mind that these rankings are base...
Dustin goes a few rounds with Nintendo's noodle-armed fighting game for the Switch just in time for the summer. PLUS: Konami controversy, Rap Rabbit's demise, Sega Forever and more!
― Even covering it from the comfort of a home office, the sheer volume of E3 was positively exhausting. My heart goes out to the poor writers in the trenches, and even more to the poor fans who paid money for the mostly u...
Is this slice of life comedy about convenience store candy a sugar rush worth indulging, or is it just as frivolously forgettable as its subject matter? Nick Creamer finds out.
― Anime has already offered us long-running dramas about baking bread and entire franchises predicated on idols fighting interstellar wars, so it's tough to be surprised by basically any premise these days. Slice of life in pa...